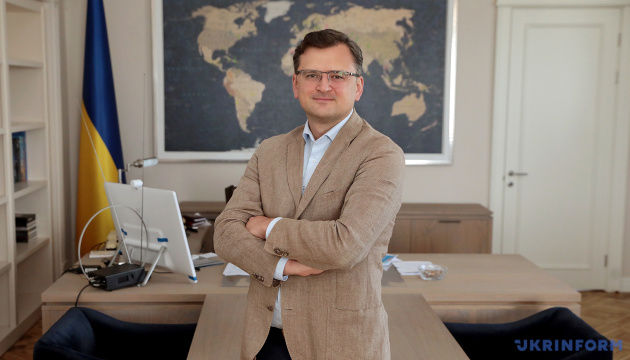 Ukraine wants to increase trade turnover with ASEAN countries to USD 5B - Kuleba
Ukraine seeks to increase trade turnover with ASEAN countries to USD 5 billion.
Foreign Minister of Ukraine Dmytro Kuleba stated this at a meeting with Ambassador of Vietnam Nguyen Anh Tuan, Ambassador of the Republic of Indonesia Yuddy Chrisnandi, and Ambassador of Malaysia Dato Raja Reza Raja Zaib Shah on the eve of 53rd anniversary of the Association of Southeast Nations (ASEAN), the Foreign Ministry's press service reported.
"Our goal is to increase trade turnover with ASEAN countries up to USD 5 billion. This is an ambitious goal. We are determined to promote trade and increase investment, and therefore be able to give a significant impetus to economic cooperation through the implementation of joint mutually beneficial projects," the minister emphasized.
Kuleba called on the partners of ASEAN Member States to consider the possibility of concluding a memorandum on cooperation between the Foreign Ministry's Exporters and Investors Council and the ASEAN Business Advisory Council.
He also officially proposed the launch of an ASEAN committee in Ukraine with the participation of ASEAN Member States ambassadors accredited in Ukraine as the basis for establishing contacts between representatives of political and business circles.
The parties reaffirmed their interest in concluding bilateral agreements on preferential trade, which would contribute to the growth of trade between Ukraine and ASEAN countries and the implementation of mutually beneficial investment projects.
In addition, the issue of possible establishment of an ASEAN Center in of the Ukrainian universities was discussed.
A reminder that the Association of Southeast Asian Nations (ASEAN) is a regional intergovernmental organization established in Southeast Asia in 1967. It consists of ten countries: Brunei, Cambodia, Indonesia, Laos, Malaysia, Myanmar, the Philippines, Singapore, Thailand, and Vietnam.
Ukraine aims to accede to the main ASEAN document - the Treaty of Amity and Cooperation in Southeast Asia and gain an observer status in the ASEAN Inter-Parliamentary Assembly.
iy