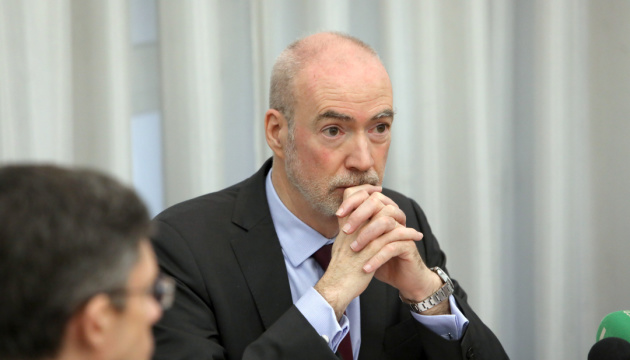 Ukrainian judicial reform not in line with IMF recommendations – French ambassador
The reform of the Ukrainian judiciary is not in line with the recommendations of the International Monetary Fund (IMF), and this, together with the threat of the National Bank of Ukraine (NBU) losing its independence, is a bad signal to foreign investors, French Ambassador to Ukraine Etienne de Poncins has said in an interview with the RBC-Ukraine news agency.
"We support the independence of the NBU. We are concerned that this independence is threatened by several groups, including in parliament. However, we do not focus on individuals. We focus on institutions, in particular, on ensuring the independence of the National Bank. To be honest, this all has given a bad signal. There are also other bad signals. For example, the reform of justice that is currently in the Rada is not what we expected. It does not coincide with the recommendations of the IMF, and judicial reform and independence of the NBU are just the IMF's requirements for Ukraine. At the moment, these requirements are not being met. This is really a cause for concern," the diplomat said.
The ambassador said that after the change of government, the start of reforms in Ukraine was very good, but now a "turbo regime" has been turned off, and things are sometimes moving in the wrong direction.
"Apart from judicial reform, I can also mention the reform of the Security Service of Ukraine. These are the indicators that we are closely monitoring," de Poncins said.
Among the success stories, he named banking and land reforms, the law on concessions.
"When I talk to French investors, they are very interested in investing in the Ukrainian market, because it is very promising. However, they want to be sure that investments will be protected. If there is a problem, you can go to court, which is not corrupt, effective and respects the rule of law," the ambassador said.
Earlier, Ukrainian President Volodymyr Zelensky admitted the existence of "problematic cases" with investors due to the imperfection of the judicial system, but said the authorities were building a system to counter this.
op