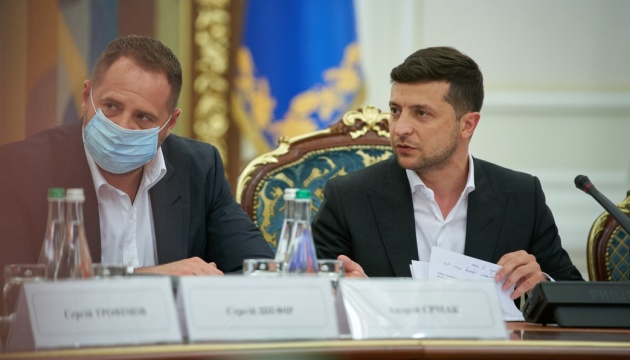 Economy minister reports to president about economic stimulus program to overcome COVID-19 effects
President Volodymyr Zelensky held a meeting with members of the Cabinet of Ministers of Ukraine, during which they discussed the first steps and results of the economic stimulus program to overcome the consequences of COVID-19.
The head of state noted that the negative consequences of quarantine measures had affected every country in the world, the President's Office reported on June 9.
"National governments are introducing unprecedented economic stimulus programs. Wealthy countries spend billions of dollars to support domestic producers. The rest are looking for non-standard solutions in order to ensure a worthy place in the new economic reality," Zelensky said.
Minister of Economic Development, Trade and Agriculture of Ukraine Ihor Petrashko reported that the economic stimulus program contained a number of short- and medium-term measures for priority sectors of Ukraine's economy for 2020-2022. The main areas of the program include 230 specific activities with executants and deadlines.
The key areas of the program include the issue of ensuring the proper functioning of the state. Thus, in the framework of this trend, Ukraine has already used such a tool as adaptive quarantine.
The program also provides incentives for SMEs. This includes the implementation of a modified lending program "Affordable Loans 5-7-9%". Within this area, it is planned to launch another lending program "New Money" after the adoption of all necessary bills.
In addition, the economic stimulus program provides for the optimization of the tax burden and administration.
At the same time, the president noted that the updated lending program "Affordable Loans 5-7-9%" should envisage a simplified procedure for obtaining a loan at an acceptable interest rate for any representative of small and medium business.
ish