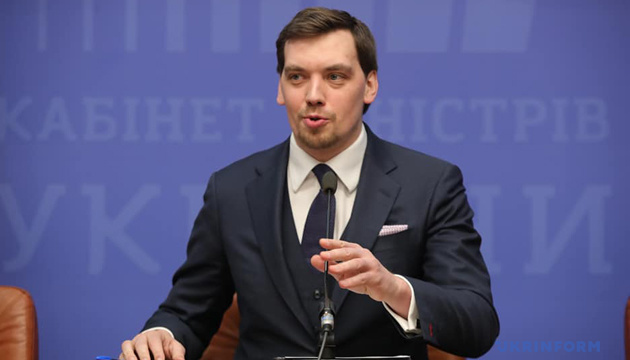 Loans under state guarantees for road construction to save budget funds – PM Honcharuk
Loans for the State Road Agency of Ukraine (Ukravtodor) under state guarantees at a lower interest rate will allow the construction of more high-quality roads across the country and save state budget funds.
Prime Minister Oleksiy Honcharuk stated this at a coffee meeting with NBU Governor Yakiv Smolii, representatives of the Finance Ministry, the Ministry for Development of Economy, Trade and Agriculture and Ukravtodor, the Government portal reported.
"An additional UAH 19.3 billion mainly from state-owned banks at a lower interest rate mean more high-quality roads in Ukraine this year, moreover, with saving for the state budget," Honcharuk said.
As Ukrinform reported, on January 16, 2020, the Verkhovna Rada of Ukraine adopted amendments to the Budget Code and the state budget for 2020, which allow Ukravtodor to attract loans under state guarantees to develop the road infrastructure. The amount of borrowings under state guarantees for Ukravtodor was set at UAH 19.27 billion.
According to President of Ukraine Volodymyr Zelensky, UAH 85 billion will be allocated this year for the construction of 4,000 km of highways of national significance and over UAH 22 billion for 2,500km of local roads.
In December 2019, the Cabinet of Ministers and the National Bank of Ukraine introduced a tradition of regular coffee meetings to enhance the coordination of monetary and economic policies within the Memorandum on Cooperation to Achieve Sustainable Economic Growth and Price Stability.
The Memorandum of Cooperation between the Ukrainian government and the central bank stipulates joint efforts of institutions to ensure price stability as a necessary prerequisite for sustainable economic growth in Ukraine, which will contribute to improving the expectations of the population and business, in particular, inflationary ones, and will increase investor confidence in the Ukrainian economy.
iy