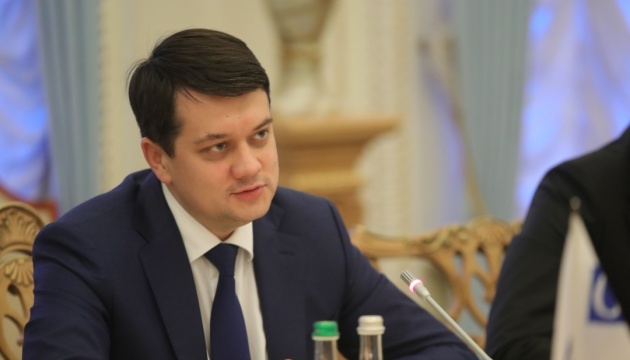 Razumkov: Estonia's experience in IT economy valuable for Ukraine
Estonia's experience in e-governance and cybersecurity is very valuable for Ukraine.
"One of the main points of the election campaign of the incumbent President and the majority party was the creation of the "State in a Smartphone" project. Therefore, Estonia's positive experience in e-governance, digitization, and development of IT economy is very valuable for us," Verkhovna Rada Speaker Dmytro Razumkov said at a meeting with President of Estonia Kersti Kaljulaid, the press service of the Ukrainian Parliament reports.
Razumkov also praised Estonia's extensive practical experience in IT economy and cybersecurity.
The Verkhovna Rada Speaker also underscored that Ukraine's movement towards EU and NATO remained the priority.
"The Parliament and the President share views on this issue. We must continue to implement the European legal norms that will allow us taking fundamental steps on Ukraine's path towards Europe," Razumkov stressed.
Among the important reforms, the Verkhovna Rada Speaker mentioned the fight against corruption and economic liberalization.
Razumkov began his official visit to Estonia on February 25. He was expected to meet with President of Estonia Kersti Kaljulaid, President of the Estonian Parliament Henn Põlluaas, Estonian Minister of Defense Jüri Luik, and Estonian Minister of Foreign Affairs Urmas Reinsalu.
ol