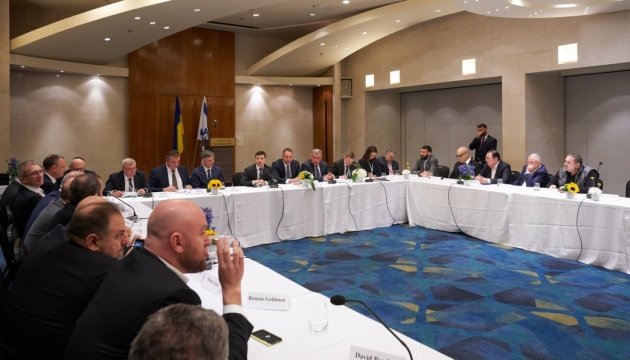 Zelensky discusses investment with Israeli businessmen
President of Ukraine Volodymyr Zelensky met with representatives of the Israeli business circles in Jerusalem on Friday, the president's press service has reported.
"Today, you can see a young, very energetic Ukraine that strives for changes, studies technologies, wants to be economically liberal. Ukraine wants big investment," the head of state said.
Zelensky stressed that laws that help business are adopted in Ukraine. For example, anti-BEPS, deregulation and concession laws.
"As soon as we pass the laws, we immediately see the result. For example, we started a port concession. We have completed the contests and money is already being brought to one of the ports. These are investments worth more than $1 billion," the president said.
The head of state also presented programs that Ukraine offers to investors and spoke about modern projects that will make life easier both for business and people in the country.
"We want to be among the first in the development of technologies in the world. We are developing a large project "A State in a Smartphone". All possible government services will be in a smartphone," Zelensky said.
The participants of the meeting agreed that Ukraine should improve the tax system, reduce the influence of the state bureaucracy on business and protect investments from corruption.
The meeting was attended by representatives of digital business, IT, owners of construction and infrastructure companies, companies producing equipment, venture capital fund managers, etc. with a total budget of billions of dollars.
On January 23-24, President of Ukraine Volodymyr Zelensky is on a working visit to the State of Israel.
ish