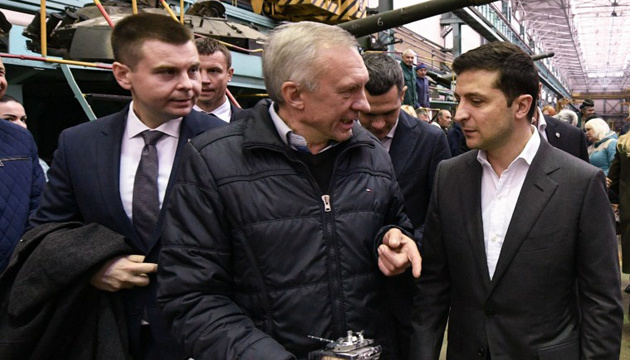 Zelensky urges business to improve conditions for Ukroboronprom employees
Ukrainian President Volodymyr Zelensky has called on businesspeople in the Kharkiv region to help the state create proper working conditions at local enterprises of the Ukroboronprom State Concern.
He said this at a meeting on problematic issues of Ukroboronprom's activity in Kharkiv on Wednesday, November 6, according to an Ukrinform correspondent.
"I want to appeal to the new head of the state administration. You can gather a business association of the Kharkiv region and just create normal conditions for people. We, for our part, as the state, must do it too," Zelensky said.
Prior to that, Ukroboronprom Director General Aivaras Abromavicius said that glass windows had already been installed at an Ukroboronprom enterprise in Kyiv and that there was the intention to launch pilot projects on free food and overalls.
When asked by the head of state when it would be possible to do it at all enterprises of the concern, Abromavicius said that this required money and state support.
After that, the president asked for support from Kharkiv business representatives "if it is their civil will."
op