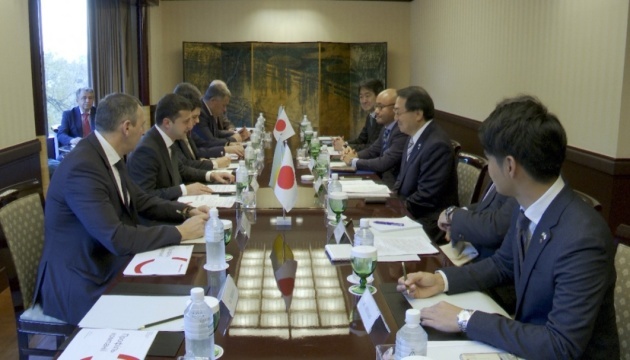 Zelensky invites Japanese Marubeni Corporation to invest in Ukraine
President of Ukraine Volodymyr Zelensky has invited the Japanese Marubeni Corporation to invest in projects in Ukraine, including the construction of waste recycling plants and roads.
The meeting of the President of Ukraine with the Marubeni management was held in Tokyo, the press service of the Head of State reports.
"We are determined to carry out reforms. We are strengthening at the legislative level the protection of business from misconduct or inaction of permitting bodies," the Head of State said, noting that a law had been signed in Ukraine in early October to stimulate investment activity, which should improve the investment climate.
The President also stressed that Ukraine was entering the final stage of large-scale privatization.
"We will prepare the legal framework for the privatization of more than 500 state-owned enterprises. Our priorities are: deregulation with the transition to online state services for business; liquidation of the shadow economy and corruption schemes; infrastructure development; optimization of the tax system; implementation of European standards in Ukraine," Volodymyr Zelensky stressed.
In addition, the President of Ukraine urged the representatives of the Japanese company to invest in waste recycling plants and road construction in Ukraine.
"The government has recently estimated the length of roads of national importance - it is 44,000 kilometers. We will consider proposals for the construction of modern roads, ambitious concession projects," Volodymyr Zelensky noted.
"Representatives of Marubeni Corporation noted that they had already been supplying grain and dairy products from Ukraine to Japan and were looking to expand the list of agricultural products. They also implement environmental projects in Ukraine, such as supplying solar panels," reads the statement.
On October 21-24, President of Ukraine Volodymyr Zelensky makes a working visit to Japan.
ol