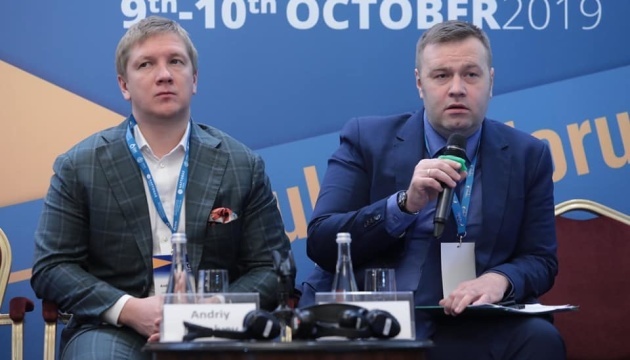 Orzhel, Kobolev outline conditions for signing gas transit contract with Gazprom
A gas transit contract with Gazprom may be signed on condition that Ukraine fully complies with the European rules for unbundling of GTS operator.
"Now we are working to ensure unbundling, to get an independent GTS operator, certify it, sign new contracts from January 1: for interconnector and transportation. We work with the European partners, a contact was established with the Russian side. After the first round of negotiations with the Russian side we came to the conclusion that if the Ukrainian side fulfills everything, we will sign the agreements. I am sure that everything will be ready from our side," Energy and Environmental Protection Minister of Ukraine Oleksiy Orzhel said during the 5th Ukrainian Gas Forum, an Ukrinform correspondent reports.
He recalled that the bill necessary for the unbundling implementation had been registered in the Verkhovna Rada on Monday. The necessary decisions of the Cabinet of Ministers have already been approved as well.
"We will have completely independent GTS operator, both from financial and operational points of view. We are absolutely transparent in this process, we cannot lose," Orzhel said.
CEO of NJSC Naftogaz of Ukraine Andriy Kobolyev also highlighted the need to comply with the European rules on gas market and during the unbundling process.
"Apart from our European partners, our unbundling will be carefully studied by Russian colleagues," Kobolyev said.
ol