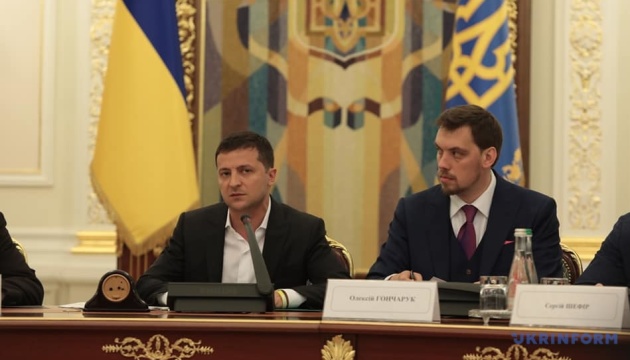 President outlines top priorities of decentralization and regional policy
President of Ukraine Volodymyr Zelensky has outlined the priority tasks in the field of decentralization and regional policy.
He stated this during a meeting with the leadership of the Verkhovna Rada, the Cabinet of Ministers and law enforcement agencies on Monday, the president's press service reported.
"Immediate completion of the process of decentralization, including amendments to the Constitution of Ukraine - transfer of real power, finances and resources to local communities, completion of sectoral decentralization, bringing services closer to every citizen, ensuring their quality," the president said.
Zelensky also stressed the need to define the final rules for the formation of the state administrative-territorial system, to fix the boundaries of each administrative-territorial unit, to complete the unification of territorial communities.
"To reform local executive bodies, which, among other things, will control the legitimacy of decisions of the newly formed local self-government bodies. To hold local elections on a new administrative-territorial basis," he said.
According to the president, the deadline for the fulfillment of these tasks is 2019-2020.
The head of state also instructed to approve a new state strategy of regional development for the next six years (2021-2027). In addition, by the end of 2019, effective use of the funds of the State Regional Development Fund and other budgetary programs of regional development must be ensured, as well as the capacity of the Regional Development Agency must be enhanced.
Zelensky also instructed to develop an information campaign aimed to clarify the reform of housing and communal services by December 1, 2019.
ish