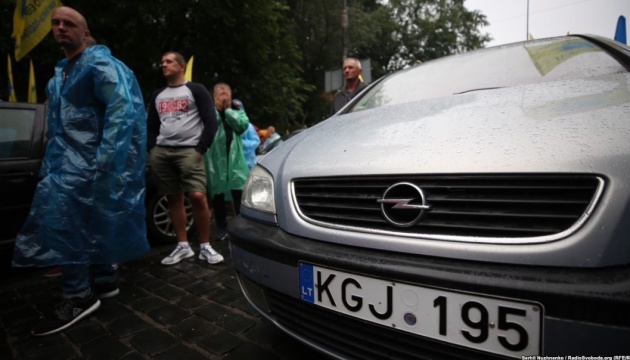 Zelensky proposes postponing fines for owners of foreign registered vehicles for 90 days
Ukrainian President Volodymyr Zelensky has asked the Verkhovna Rada to adopt a bill postponing for 90 days the imposition of penalties on the owners of vehicles with foreign number plates that were not cleared through customs.
Deputy Head of the Presidential Office Ruslan Riaboshapka said this at a briefing on Wednesday, July 17, according to an Ukrinform correspondent.
"The president turned to the parliament with a proposal to consider a bill that postpones the use of fines to those people who do not have time to clear cars with foreign number plates," he said.
According to him, the head of state proposed postponing the application of fines for 90 days.
Riaboshapka added that within 90 days, a new parliament and a new government should propose a mechanism for resolving this problem.
"In Ukraine, there are currently about 600,000 to 800,000 vehicles with foreign license plates that have yet to be cleared through customs," he said, adding that according to the current legislation fines to such vehicles will be applied from August 24.
Riaboshapka said that the president had asked the parliament to consider a respective draft law at an extraordinary meeting on July 18, but added that if the Verkhovna Rada does not meet, a meeting will be held with representatives of the Interior Ministry, the National Police, the Infrastructure Ministry and representatives of public associations so as to look for other mechanisms to solve the problem.
At the same time, he noted that "the law does not foresee such direct mechanisms."
op