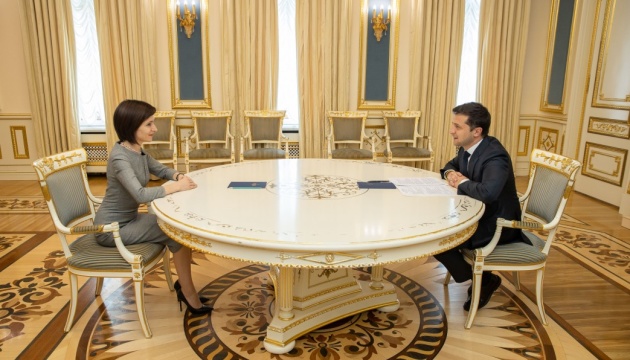 Ukrainian president and Moldovan prime minister discuss economic cooperation between states
Ukrainian President Volodymyr Zelensky and Prime Minister of Moldova Maia Sandu discussed the development of economic cooperation between the countries, according to the president's press service.
During a press conference following the negotiations on July 11, the president noted that special attention has been paid to the prospects of economic cooperation. "In 2018, trade turnover between our countries increased by 11% and amounted to almost USD 1 billion. I think we will easily reach the same indicator shortly, but without the word "almost"," he said.
The parties also discussed human contacts. The president believes that citizens of Ukraine and Moldova can carry out mutual trips with internal ID cards.
"Another issue is the provision of educational needs of the Ukrainian community in Moldova. In my opinion, it is important to keep a differentiated approach to Ukrainian schools and studying the Ukrainian language in Moldova," the president said.
The head of state thanked the prime minister of Moldova for her visit to Ukraine and expressed confidence that active dialogue and cooperation in all sectors of mutual interest of the countries would be continued.
According to Maia Sandu, Moldova considers strategic partnership with Ukraine an important foundation of its own security. "European integration and implementation of the Association Agreement with the European Union are our main goals shared by Ukraine," she emphasized.
The government of Moldova is willing to carry out closer cooperation with Ukraine in economic and energy sectors, the prime minister said.
ish