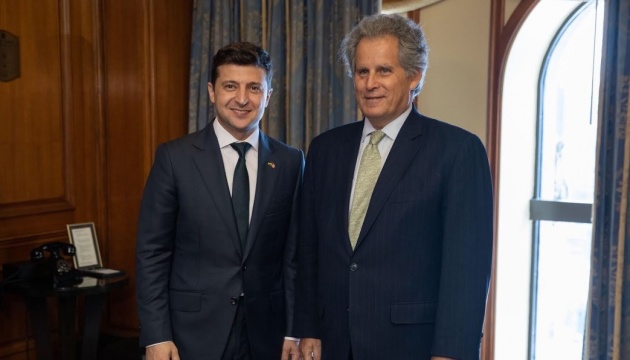 Ukraine wants to continue relations with IMF – Zelensky
Ukrainian President Volodymyr Zelensky has said that cooperation with the International Monetary Fund (IMF) remains a priority for the Ukrainian authorities.
He said this at a meeting with IMF First Deputy Managing Director David Lipton in Toronto on July 2, according to the press service of the head of state.
"We would like to continue our relations with the IMF. I want to put an emphasis on that," Zelensky said.
The president said that Ukraine had achieved macroeconomic stability, but this is still not enough.
"We will do our best for Ukraine to thrive," Zelensky said, adding that economic development was an important task for the Ukrainian authorities.
He also assured of guarantees of the independence of the National Bank of Ukraine.
The head of state expressed hope that the new parliament, to be elected on July 21, will adopt reform-oriented laws.
The president noted that Ukraine was determined to carry out important reforms aimed at sustainable economic development. In particular, it concerns the reform of law enforcement agencies, energy sector, large privatization, and the land market. He also announced the abolition of more than 160 obsolete decrees that put pressure on business.
According to Zelensky, the Ukrainian economy is currently growing by 2-3% per year. However, this is not enough, as society demands more.
The head of state invited the IMF delegation to visit Kyiv to reach a working agreement on a new program. The president suggests organizing such a visit immediately after the formation of a new government.
Zelensky is on a visit to Canada from July 1 to July 3 to attend the Ukraine Reform Conference.
The IMF mission visited Ukraine at the end of May. The IMF said the mission was ready to return to Kyiv to continue discussions after parliamentary elections, once a new government decides on its policy priorities.
op