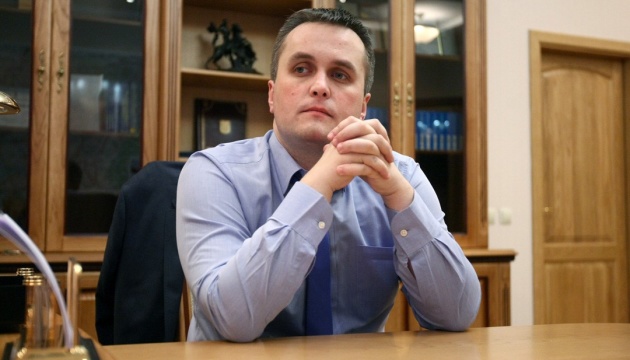 Anti-corruption prosecutor's office opens criminal case against Poroshenko
Head of the Specialized Anti-Corruption Prosecutor's Office (SAPO) Nazar Kholodnytsky has ordered the opening of a number of criminal cases after receiving former Chairman of the Board of PJSC Energomerezha Dmytro Kriuchkov, reads a report posted on the Facebook page of the SAPO.
It notes that following a personal reception by Deputy Prosecutor General and SAPO Head Nazar Kholodnytsky of citizen Dmytro Kriuchkov "regarding the legitimacy of the actions of the former President of Ukraine, a number of senior officials of government bodies, people's deputies of Ukraine and the leadership of some large-sized enterprises in the charter capital of which the share of public or municipal property exceeds 50%, a decision has been made and information has been included in the single register of pretrial investigations" on a number of facts.
In particular, the report says that proceedings were instituted due to the criminal activity of officials of PJSC Centrenergo and the State Property Fund of Ukraine.
Kriuchkov's statement says that officials and members of the supervisory board at PJSC Centrenergo and officials of the State Property Fund and a number of government officials, using their official powers and status, distributed key positions in governing bodies and the supervisory board of PJSC Centrenergo in order to steal funds of this company whose controlling stake belongs to the state.
"According to the applicant, the joint actions of this group of persons were coordinated by Ukrainian people's deputy Kononenko I.V. and the former President of Ukraine. The result of criminal actions is the implementation of a scheme to take over the property of PJSC Centrenergo by approving the results of the tender for privatization of the state-owned stake in the company. Funds in the amount of over UAH 6 billion that should have been received from such sale were previously illegally withdrawn from PJSC Centrenergo and converted through controlled entities during 2016-2018. The pretrial investigation was launched under Part 2 of Article 364 of the Criminal Code of Ukraine," the SAPO said.
op