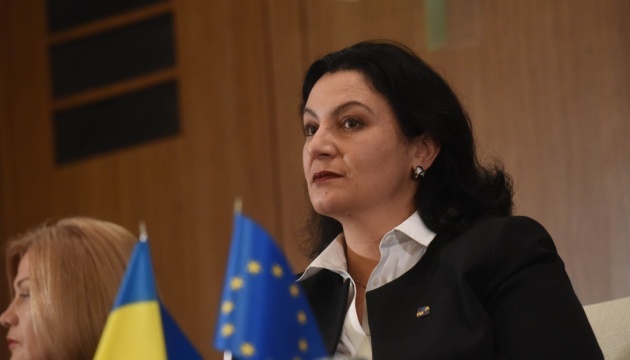 Cabinet supports updating of energy annex to EU-Ukraine Association Agreement
The Cabinet of Ministers approved the decision to bring Ukraine to a new level of energy relationship with the EU.
As Vice Prime Minister for European and Euro-Atlantic Integration of Ukraine Ivanna Klympush-Tsintsadze noted, the Government for the first time makes such a type of decision, which includes several points, namely: approval of the draft decision by the Government of Ukraine, submission of a decision for ratification by the Verkhovna Rada and initiation of written decision-making procedures between Ukraine and the European Union within a week after its ratification by Parliament in the prescribed manner.
"I want to draw attention to the fact that it is Annex XXVII to the Association Agreement, it concerns the energy sector, as well as all types of energy markets in Ukraine. For us, it means a new level of relations with the European Union in the field of energy, since it implies the mutual obligations of the parties. In particular, Ukraine will refrain from making decisions on the enactment of legal acts that may contradict the law of the European Union, and the European Commission will assess the compatibility of these bills or government acts with the relevant provisions of the European Union law. The EU undertakes to evaluate these decisions and make recommendations in order to achieve full integration of Ukraine's energy market into the EU energy market," Klympush-Tsintsadze said.
Apart from legal integration, she stressed, this decision also implies infrastructure integration, which is "a big serious step forward. "
Prime Minister of Ukraine Volodymyr Groysman urged members of the Government to support the decision and noted that today the documents would be submitted to the Verkhovna Rada for passing all the necessary procedures.
The ratification of amendments and additions to Annex XXVII to the EU-Ukraine Association Agreement will open a possibility of deeper sectoral integration in the energy field, which is one of the four areas that are currently identified as priorities in Ukraine's rapprochement with the European Union (energy, digital market, customs cooperation, justice, freedom and security).
ol