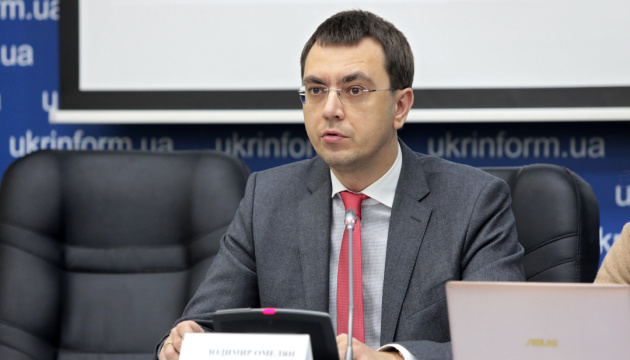 Ukraine interested in cooperation with Canadian rolling stock manufacturers - Omelyan
Ukraine is interested in cooperating with Canadian rolling stock manufacturers so as to repeat the success of work with General Electric, Infrastructure Minister Volodymyr Omelyan has said.
He said this at a meeting with Canadian business representatives on April 15, the press service of the Infrastructure Ministry reported.
"We have every opportunity for successful cooperation [with Canadian rolling stock manufacturers]. The market for freight and passenger transportation is growing rapidly every year. We have broken the ice, and now the main thing is not to lose the pace. Despite the election period, we will support the EU integration and pro-Western course in Ukrainian infrastructure," Omelyan said.
The minister noted that Ukraine already has positive experience of working with global companies, in particular, with General Electric, and wants to repeat this experience with Canadian rolling stock manufacturers.
The meeting participants discussed potential public-private partnership projects in Ukraine. At the same time, Omelyan informed representatives of the Canadian side of two pilot projects in the maritime industry that will be implemented this year.
"We are launching two concessions of our seaports – Olvia and Kherson. We want to start with these two ports and then spread the experience to other Ukrainian ports. The main thing for us is to be sure that the facilities that we'll transfer to concession will be under the control of a reliable and responsible investor. In addition, together with the International Finance Corporation, we are developing the possibility of a concession for one or two state airports - Boryspil or Lviv, plus two or three regional airports - as one investment package," he said.
According to him, the possibility of transferring railway stations and potentially roads concession is also being considered.
Omelyan also stressed that the Infrastructure Ministry was preparing all feasibility studies for the projects with the support of the World Bank, the International Finance Corporation, the EBRD and other international partners.
Canadian business representative Michael Yurkovich noted that the interest of Canadian investors in Ukraine is extremely high and that infrastructure is a top priority. He also said that three or four projects would be selected in the near future and that investors would like to implement at least one or two of them in 2020-2021.
The meeting was attended by Head of the Ukrainian Sea Ports Authority Raivis Veckagans and Head of the SPILNO Public-Private Partnership Management Office Taras Boichuk.
op