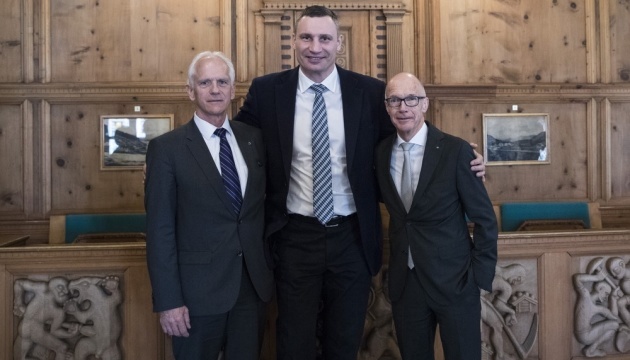 Klitschko in Davos discusses introduction of smart technologies
At the World Economic Forum in Davos, Kyiv Mayor Vitali Klitschko took part in a panel discussion "Smart Financing for Smart Cities".
According to the mayor's press service, the event with the participation of the mayors of Davos and St. Gallen and representatives of big financial companies was held at the Davos mayor's office on Thursday.
"Innovative management technology solutions become increasingly important and we have to broaden our cooperation to make our cities 'smarter'. Kyiv has been implementing Smart City initiatives for four years This project resulted from some previous Davos successful negotiations. Back then we made an arrangement with SAP, a German-based company which provided its expertise to introduce the first Smart City project - Open Budget. As of now we have incorporated plenty of technological solutions into urban environment: City Data Centre, Kyiv resident card, online medical appointment booking and kindergarten enrollment scheme, Safe City surveillance network, e-petitions and many other. We continue to make Kyiv smarter and exchange helpful ideas with other cities. Same as we are doing right now here, at Davos," Klitschko said.
Mayor of St. Gallen Thomas Scheitlin presented the innovations of 'Smart City - Made in Switzerland' which are currently being implemented by Swiss.
During the discussion, the parties discussed ways on how cities can cooperate in order to attract investments in the implementation of technologies and innovations in urban management system.
'Smart' technologies and digitization of various fields are the emphasis of plenty events in Davos this year.
Klitschko in Davos will also hold a number of meetings with international business community.