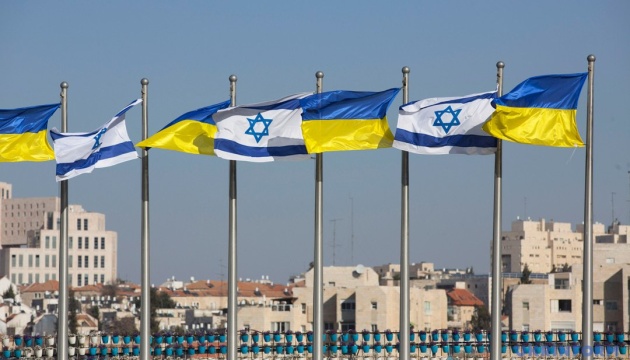 Ukraine, Israel sign free trade agreement
Ukraine's First Deputy Prime Minister and Minister for Economic Development and Trade Stepan Kubiv and Israel's Minister of Economy and Industry Eli Cohen have signed a free trade agreement between the two countries.
The signing ceremony took place in the presence of Ukrainian President Petro Poroshenko, who was on a visit to Israel on January 20-21, an Ukrinform correspondent said.
The event was broadcast live on Ukrainian TV channels on Monday.
Poroshenko said that one hundred pages of the agreement between Ukraine and Israel had been completed in one year, and in general, the document contains about 1,500 pages.
"Today, in Jerusalem, we are signing this agreement, and people from business say that this will help make people's lives better in our countries because it will help make goods of our countries cheaper - Ukrainian goods in Israel, and Israeli goods in Ukraine. We are launching a new agreement on trade services, and this is a great idea," Poroshenko said.
He said it was a historic day in relations between Ukraine and Israel, adding that the free trade agreement would remove all barriers in economic relations.
As reported, Ukraine's Cabinet of Ministers approved a draft free trade agreement between Ukraine and Israel on November 21, 2018.
According to the estimates of the Ministry for Economic Development and Trade, in the near future, the agreement will help increase Ukraine's exports to Israel and improve the trade balance between Ukraine and Israel.
The effect of the free trade agreement between Ukraine and Israel will not apply to the temporarily occupied territories of Crimea, the city of Sevastopol and certain areas of Donetsk and Luhansk regions until the full restoration of the constitutional order of the state of Ukraine there.
According to the Export Strategy of Ukraine, in particular the Road Map for Strategic Trade Development for 2017-2021, Israel is among top 20 promising markets for the export of Ukrainian products and is also a major trading partner of Ukraine in the Middle East region. The most promising areas for cooperation are agriculture, tourism, hydrocarbon processing, communications, medicine, energy efficiency, and ecology.