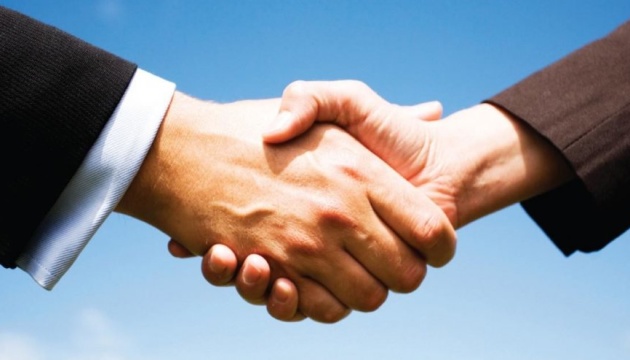 Ukrainian delegation meets with leaders of EU agribusiness at International Green Week
A Ukrainian delegation from the Agrarian Policy Ministry held a number of meetings with the EU's agriculture ministers within the framework of International Green Week in Berlin.
"On January 18, the Ukrainian delegation led by Acting Agrarian Policy Minister Maksym Martyniuk held a number of bilateral meetings with ministers in the agricultural sector of European countries - Poland, Lithuania, Estonia, Hungary, Georgia, Latvia. The meetings took place within the framework of the largest trade fair International Green Week 2019 held in Berlin, Germany," the press service of the Agrarian Policy and Food Ministry of Ukraine reported.
At the meeting with Polish Minister of Agriculture and Rural Development Jan Ardanowski, the sides agreed to hold the fifth meeting of the Ukrainian-Polish Working Group on Agriculture. Also, they discussed cooperation in the fields of veterinary, seed production and organic production.
During the meeting with Agriculture Minister of the Republic of Lithuania Giedrius Surplys, the parties analyzed progress in cooperation under the Ukraine-Lithuania Bilateral Cooperation Program for 2017-2019 in the agricultural sector.
During the meeting with Minister of Rural Affairs of the Republic of Estonia Tarmo Tamm, the sides discussed joint actions for the development of dairy sector. The Ukrainian side expressed gratitude for the support in reforming and improving the fisheries management system of Ukraine and the readiness for further active cooperation in this direction.
During the meeting with Agriculture Minister of Hungary István Nagy, the parties agreed on holding a regular meeting of the Ukrainian-Hungarian Working Group on Agriculture in June 2019.
During the meeting with Agriculture Minister of Georgia Levan Davitashvili, the parties shared their experience in introducing the latest technologies into the land registration system, conducting the state land cadastre, holding electronic auctions and providing administrative services.
During the meeting with Agriculture Minister of the Republic of Latvia Jānis Duklavs, the sides decided to focus on the issues of advisory development.
As reported, the International Green Week was founded in Berlin in the Golden 20s (1926). IGW is a one-of-a-kind international exhibition of the food, agriculture and gardening industries. The exhibition is attended by 1,700 participants from 65 countries and more than 400 thousand visitors. As part of the exhibition, about 300 symposiums, seminars, forums, committee meetings, etc. are held.