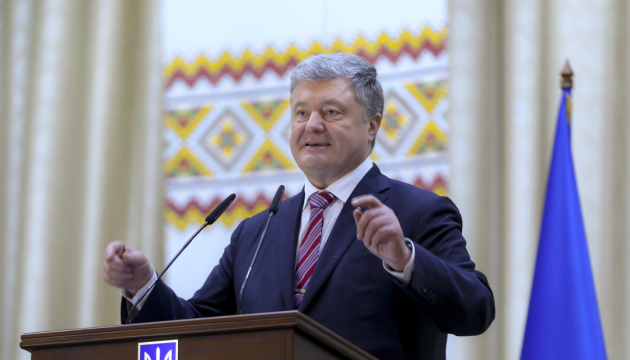 President: Ukraine implements most large-scale reforms in its history
President of Ukraine Petro Poroshenko has stated that the authorities of the country implement the most large-scale reforms in its history despite the ongoing war.
"Dear friends, not only the Kremlin got ready for the year 2019 [holding of presidential and parliamentary elections in Ukraine]. Ukraine also got ready for this special year. Despite the ongoing war, we have launched and successfully implement the most large-scale and profound changes and reforms in our history," Poroshenko said at the meeting with heads of foreign diplomatic missions and international organizations accredited in Ukraine, an Ukrinform correspondent reported.
He added that Ukraine had reached significant progress in modernizing domestic economy and infrastructure. "We launched large-scale reforms in the areas of privatization, education, health care, pension system, decentralization and many others," the President noted.
The President stressed that a reliable front of the independent anti-corruption agencies, including the High Anti-corruption Court, had been established in Ukraine.
"We have taken track of economic growth on a strong note. The digital economy has been launched. With confidence, we look forward to the arrival of heavyweight foreign investors in Ukraine," Poroshenko added.
As noted, Ukraine is heading towards the membership in EU and NATO confidently. Poroshenko stressed that he expected the Parliament to pass in the second reading his initiative to enshrine in the Constitution of Ukraine the country's course towards the membership in the EU and NATO in the near future.