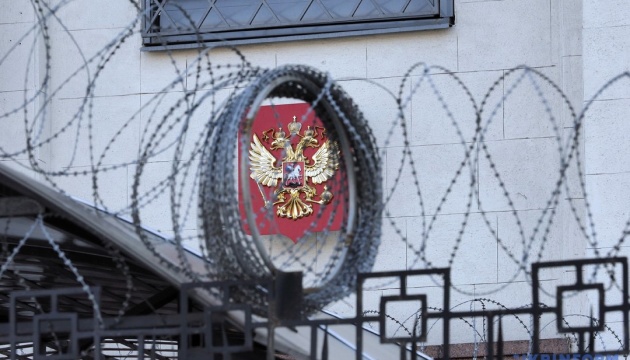 U.S. imposes new sanctions against Russia
The U.S. Department of the Treasury's Office of Foreign Assets Control (OFAC) has imposed sanctions against 18 individuals and four legal entities from Russia whose activities were linked to Russia's hybrid aggression against other countries.
This is stated in a press release published on the website of the Department of the Treasury on Wednesday, an Ukrinform correspondent said.
"Treasury is sanctioning Russian intelligence operatives involved in cyber operations to interfere with the 2016 election and a wide range of other malign activities," Secretary of the Treasury Steven Mnuchin said.
According to the Department of the Treasury, new restrictions were introduced against a former Russian GRU officer who acted in the interests of sanctioned oligarch Oleg Deripaska, against 15 GRU members, the Internet Research Agency (IRA), an entity previously sanctioned for its efforts to interfere in U.S. elections, as well as several entities and individuals related to Project Lakhta.
In particular, former GRU officer Viktor Boyarkin, who has led business negotiations on Deripaska's behalf, was involved in providing Russian financial support to a Montenegrin political party ahead of Montenegro's 2016 elections.
At the same time, Project Lakhta has sought to interfere in political and electoral systems worldwide.
"Since at least 2014, Project Lakhta has used among other things, fictitious online personas that posed as U.S. persons in an effort to interfere in U.S. elections, as the IRA did during the 2016 U.S. election," the report said.
In this regard, the Department of the Treasury imposed sanctions against Nevskiy News LLC, Economy Today LLC, the Federal News Agency LLC and USA Really, as well as certain individuals involved in Project Lakhta. In addition, the statement refers to Concord Management and Consulting LLC and Concord Catering — two entities owned by Yevgeniy Prigozhin. They controlled Project Lakhta's funding, recommended personnel, and oversaw Project Lakhta's activities.
OFAC also separately designated three groups of GRU officers who participated in attempts to interfere in electoral processes abroad; in cyberattacks against the International Anti-Doping Agency and OPCW; as well as in the use of the Novichok military grade nerve agent in the UK. The latter included Alexander Petrov and Ruslan Boshirov (according to the media, their real names are Alexander Myshkin and Anatoly Chepiga) who are suspected of conducting a special operation in Salisbury related to the poisoning of former GRU officer Sergei Skripal.