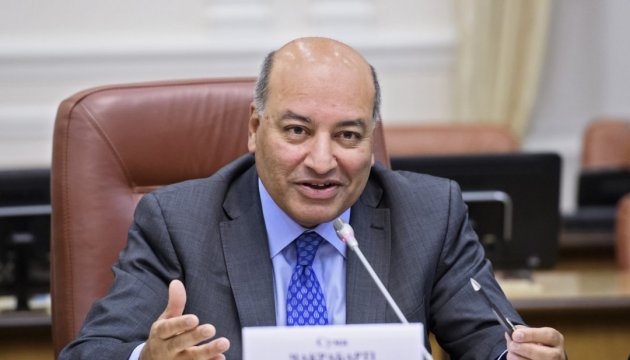 Ukraine should enter EBRD's top 5 partners – president of the bank
Ukraine should enter the top five partners of the European Bank for Reconstruction and Development (EBRD) which is one of the leading investors in Europe, the Caucasus, Central Asia, and the Middle East.
President of the EBRD Sir Suma Chakrabarti said this during a meeting with Prime Minister of Ukraine Volodymyr Groysman, the Government portal reported.
"We are confident that Ukraine has to enter the TOP 5 countries of the Bank's partners," the EBRD president added.
Sir Suma Chakrabarti is visiting Kyiv and this is his 10th visit to Ukraine. "This number of my visits demonstrates my attitude towards Ukraine," he said.
In turn, the prime minister stressed the EBRD was not just targeted assistance for Ukraine. The important decisions taken together with the experts of the EBRD became the impetus for a large number of the reforms. The issues related to privatization, corporatization of state-owned companies, creation of a competitive environment, investment in energy efficiency, support of the banking sector and facilitation of trade. This year, the EBRD has approved a new strategy for Ukraine.
The parties noted that the Bank was most interested in energy, in particular, with a view to the launch of the Energy Efficiency Fund, infrastructure, and development of the real sector and concession activities. Representatives of the EBRD proposed to implement several pilot concession projects next year.
The European Bank for Reconstruction and Development has invested in the Ukrainian economy EUR 13 billion through 410 projects since the start of its operations in the country in 1992. This is one of the largest indicators of Ukraine's cooperation with international financial institutions all the time.
ish