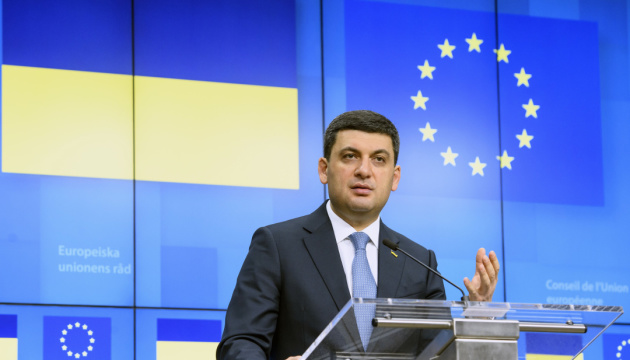 Ukraine aims to fully integrate into the EU energy market – Groysman
Ukraine aims to fully integrate into the energy market of the European Union, as well as to maintain its role as a key gas transit country with the joint management of its gas transmission system.
Prime Minister Volodymyr Groysman stated this at a meeting with Vice President of the European Commission for Energy Union Maroš Šefčovič, the Government portal reports.
According to the prime minister, the application of European Union's internal gas market principles in Ukraine is a key element of the concept of gas supplies to the EU and Ukraine after 2019, when the current contract for Russian gas transit through Ukraine will be terminated.
"Over the past three years, Ukraine has completely changed the conditions for the functioning of gas and electricity markets in line with European requirements. These changes confirm the obvious: our main goal is the integration of Ukraine into the EU energy market. In turn, the Ukrainian GTS has proven its reliability and ability to ensure uninterrupted gas transit even under difficult conditions," said Groysman.
He added that Ukraine still calls for an objective and sober assessment of threats posed by the Russian Nord Stream 2 project, which is Russia's exclusive energy weapon aimed both against Ukraine and the countries of the European Union.
Groysman also reported on the implementation of the nationwide energy efficiency program and the creation of the Energy Efficiency Fund, as well as the further process of unbundling of NJSC Naftogaz of Ukraine.
He added that due to close partnership, the energy sector is one of the most advanced in the context of fulfilling Ukraine's obligations under the Association Agreement with the European Union.