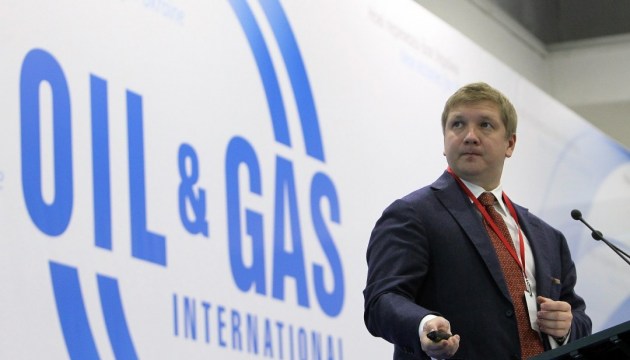 Ukraine's Government, IMF reach compromise on gas price increase
The Government of Ukraine has agreed with the International Monetary Fund that the gas price for the population will increase step by step until April 2020.
"The energy market has a very strong impact on monetary stability. It's an issue of the balance of payments, of the volume of our gas imports. We import greater volumes of gas than we get for transit. It has an impact on the currency, the GDP, our relations with the IMF," Chief Executive Officer of NJSC "Naftogaz of Ukraine" Andriy Kobolev said at the forum of the European Business Association, an Ukrinform correspondent reports.
He expressed the opinion that the next year's economic stability would be strongly influenced by the ability of the government to reach a compromise with the IMF.
"The negotiations are underway. There are two components that are important to understand: the price level itself - and, as far as I know, the government has reached a preliminary compromise. There is a principled agreement on price increase and reaching the so-called full market parity until April 2020. The pace is a matter that is being discussed now," Kobolev said.
Kobolev refused to name a specific figure of the first increase in the gas price, but stressed that the figure, which was already voiced in the media (+ 25%), might not correspond to reality.
It is also important for Naftogaz to eliminate intermediaries in the gas supply sector, he added.
ol