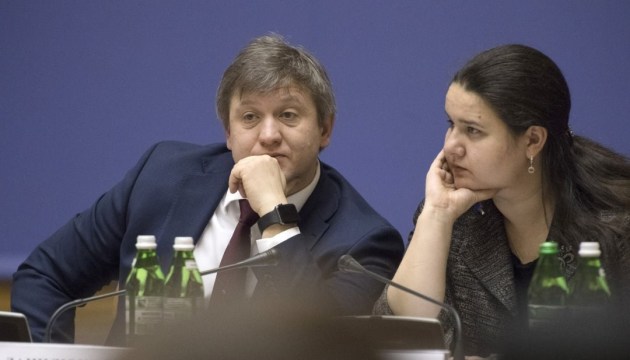 Markarova hopes talks with IMF on budget and gas prices will end soon
Ukraine's Acting Minister Oksana Markarova has said that negotiations with the International Monetary Fund (IMF) on the budget and gas prices in Ukraine are very constructive and expressed hope that they will end soon.
She said this in an interview with Bloomberg TV in London, where she is on a working visit, according to the Ukrainian service of the Voice of America.
Markarova said that the restoration and active promotion of negotiations with the IMF was a key priority.
"We are doing everything possible on our part to do it in the quickest possible time," she stressed, when asked when Ukraine will reach agreement with the IMF, but declined to name a specific date.
Markarova said that the IMF's $17.5 billion bailout for Ukraine had been frozen for more than a year.
"On the budget and on the gas prices, we have very constructive discussions, which I hope will constructively end soon," she said.
When asked how much the IMF is ready for compromise, Markarova replied that she would not talk about compromise: "We stay true to the principles that we discussed together. It's explaining and finding some solutions, especially on the budget. When we started discussions earlier, we had only first-quarter results. Now we have six-month results, which are better than what we expected in the first quarter. So I think we are well-positioned to either agree or prove to the IMF that in some numbers our position was correct, and to discuss the mitigating measures where they are needed, and we also see that they are needed."
As reported, on June 19, IMF Managing Director Christine Lagarde named conditions for Ukraine to complete the current review of the IMF program and get a $1.9 billion tranche. According to her, it is critically important for Ukraine to fulfill the conditions regarding the price of gas.
Meanwhile, the government said that the Ukrainian side had proposed at least eight options to the IMF for changing the price formula for gas, but neither of them satisfied the IMF.