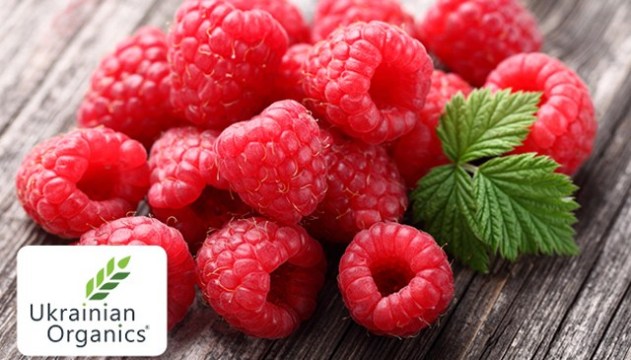 Ukrainian Organics starts growing organic raspberries
Ukrainian Organics LLC, the Ukrainian supplier of Saprolife tm, the unique organic fertilizer, and a member of the International Federation of Organic Agricultural Movements IFOAM, starts cultivation of organic raspberries of European varieties. When choosing the cultivation technology, the company's management were guided by the growing demand for quality and fresh berries. Competition is on the rise and it's getting harder to please the choosy client from Western Europe.
According to the expert assessment of Evgeny Skrylnik, Doctor of Agricultural Sciences and one of the leading agrochemists and soil scientists in Ukraine, Saprolife tm, the unique organic fertilizer and soil improver, will significantly increase the yield and improve flavor properties of raspberries. In addition, the berry can be stored fresh much longer preserving its shape and taste, which is so important for the end customer. Saprolife tm fertilizer is certified according to EU Standards and is a real catch for farmers who want not only to increase the yield, but also to keep the freshness of harvested berries as long as possible. Due to the unique combination of macro- and microelements, organic matter content, humic and fulvic acids in the composition of Saprolife tm fertilizer, the immunity of plants is enhanced, and the grown fruits become less susceptible to the influence of the environment. Certainly, it reduces the risks of farmers and suppliers when transporting harvested crops. As we know, the end user always puts freshness in the first place when choosing berries, vegetables or fruits.
Ukrainian Organics LLC pays special attention to the quality of seed grain and fertilizers added to the soil. Saprolife tm organic fertilizer is produced in the modern Volynsaprofos plant in Volyn Region. The plant operates on advanced German equipment and is the only one in Ukraine that owns all the necessary licenses, certificates and permits for the production and export of sapropel-based fertilizers, which are used by the Ukrainian Organics company for growing organic raspberries.
Information about the company:
Ukrainian Organics LLC
tel: (+380) 44-233-6604
e-mail: info@ukrorganics.com
Website: http://ukrorganics.com