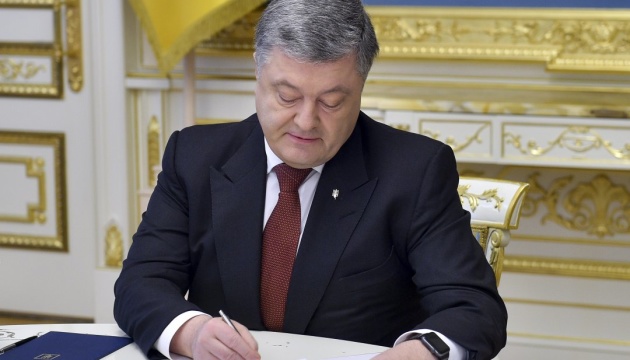 Ukrainian president signs currency bill into law
Ukrainian President Petro Poroshenko has signed into law the bill on currency, which was adopted by parliament on June 21.
The head of state signed the document at a meeting with business representatives in Kyiv on Wednesday, according to an Ukrinform correspondent.
"This [law] is a level of the Association Agreement, a level of the visa-free regime. If the Association Agreement and a Deep and Comprehensive Free Trade Area provide free movement of goods and services, the visa-free regime proves free contacts between people, when Ukrainians can travel freely throughout Europe, it is very important that the free movement of capital today will be ensured by this law," Poroshenko said.
He also called the currency law a "key act of economic freedom."
As reported, the Verkhovna Rada adopted the currency bill on June 21, 2018. The document will ensure Ukraine's transition to a new model of currency regulation, which introduces the principle "everything that is not directly prohibited by law is permitted."
The document stipulates that currency restrictions will be abolished gradually and in the presence of favorable macroeconomic conditions. At the same time, the law gives the National Bank the "green light" for more rapid liberalization of currency regulation. The most painful restrictions, for example, on investment abroad and foreign economic operations, will be lifted as soon as the law comes into force.
The law stipulates that if there are signs of an unstable financial state of the banking system, a deterioration in Ukraine's balance of payments and other crises that threaten financial stability, the NBU Board will be able to decide on the initial implementation of protection measures. These restrictions will be temporary - up to six months.
The law enters into force from the day following the day of its publication, and is enacted seven months after the transitional period from the day of its entry into force.
op