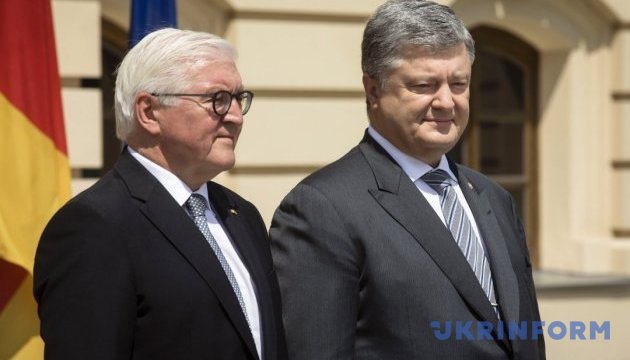 Nord Stream 2: Steinmeier sees Ukraine's concern about gas transit as groundless
Nord Stream 2 is a political project aimed at splitting the European Union, Ukrainian President Petro Poroshenko has said.
He said this at a joint briefing with German President Frank-Walter Steinmeier in Kyiv on Tuesday, an Ukrinform correspondent reported.
"Today, Ukraine is making every effort to persuade, including some European partners, that Nord Stream 2 is a purely political, rather than economic project, aimed at breaking the unity of the European Union, causing damage to Ukraine and significantly reducing the level of security throughout the region, and not just the competitiveness of the European economy," Poroshenko said.
According to him, Ukraine expects an "optimal" solution to be found in the Nord Stream 2 issue
Steinmeier, in turn, said that Ukraine's concern that it would cease to be a gas transit country in the future was "groundless."
"You should not blame us, because even if we are talking about Nord Stream 2, we are also talking about Ukraine's future and security. I hope that Ukraine is following Germany's efforts to ensure the transit of natural gas through Ukraine. To this end negotiations are being held not only between Germany and Ukraine, but also with the European Union. I hope that they will bring results in the near future," he said.
Steinmeier is on a two-day official visit to Ukraine at the invitation of President Petro Poroshenko.
op