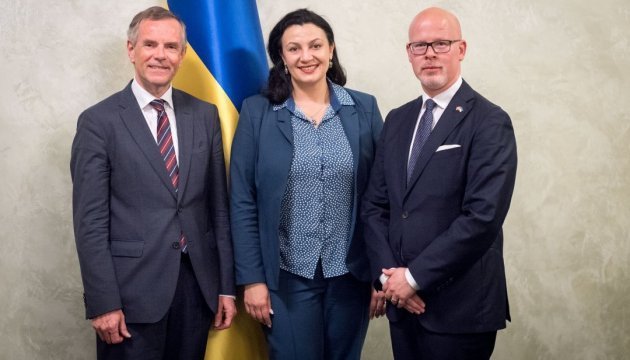 Foreign Ministry: Interest of Norwegian investors in Ukraine growing
The high level of political dialogue that currently exists between Norway and Ukraine paves the way for fruitful economic cooperation.
Mr. Audun Halvorsen, State Secretary for Foreign Affairs of Norway, said this at a meeting with Vice Prime Minister for European and Euro-Atlantic Integration of Ukraine Ivanna Klympush-Tsintsadze, the Governmental portal reports.
"Norway is interested in deepening economic cooperation with Ukraine. The business contacts, which actively develop between the companies of the two countries on the basis of the chambers of commerce and industry, are deepening, and Norwegian investors positively assess the development of the business environment in Ukraine," Halvorsen said.
According to him, the Norwegian investors are most interested in the energy sector of Ukraine, particularly in green energy and energy efficiency.
Vice PM Klympush-Tsintsadze, in turn, thanked the representative of Norway for the consistent and practical support that his country has been providing to Ukraine since the beginning of the Russian aggression
The total size of Norway's financial assistance to Ukraine has exceeded $140 million over the past four years. Its priority areas are the reform of the judiciary and public administration; promotion of trade and European integration; energy efficiency and nuclear safety; humanitarian aid. The Norwegian investments in the Ukrainian economy have reached $7.23 million.
ol