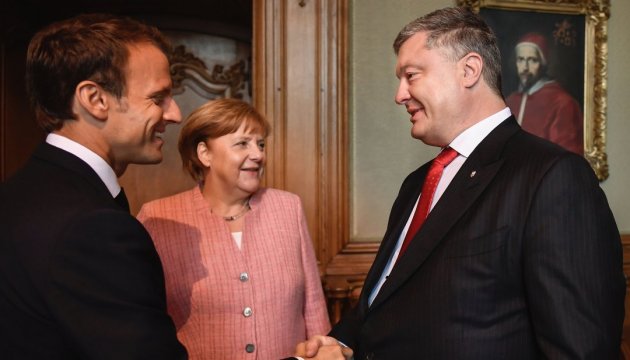 Poroshenko warns Macron, Merkel about geostrategic danger of Nord Stream 2
President of Ukraine Petro Poroshenko has highlighted the geostrategic danger of Russia's construction of the Nord Stream 2 gas pipeline at the meeting with the leaders of Germany and France Angela Merkel and Emmanuel Macron.
"Of course, we have raised the issue of Nord Stream 2. We touch upon this issue in negotiations with Germany and in negotiations with the European Commission, and now it is also one of the talking points that will be carefully discussed. It [the pipeline] poses an extremely great danger: not only for Ukraine and not only financial one, I would like to note. It is a geostrategic danger and a danger to security as well," Poroshenko said in a commentary to journalists in Aachen, an Ukrinform correspondent reports.
He stressed that the gas transportation system of Ukraine was also one of the elements of deterring the aggressor so it was impossible to treat this extremely important function irresponsibly.
In this context, the Head of State noted that Ukraine now enjoyed broader support in the European Union.
"I, as the President, the Ukrainian government and the CEO of Naftogaz as a part of the delegation are doing our best to bring an impartial picture and prevent Russia from using the Nord Stream 2 as an element of hybrid aggression, not only against Ukraine, but against the Europe on the whole. I emphasize: we will do everything in our power," Poroshenko said.
ol