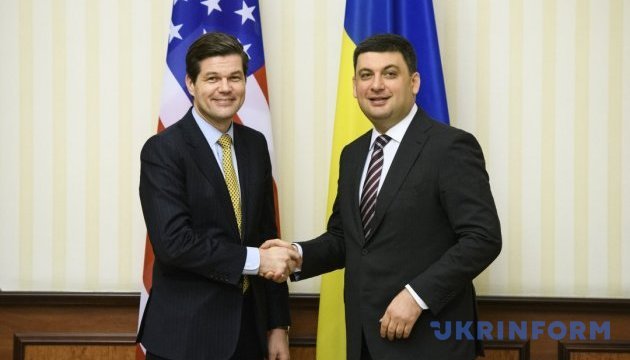 Ukrainian PM briefs U.S. Assistant Secretary of State on Ukraine's talks with IMF
Ukrainian Prime Minister Volodymyr Groysman has met with U.S. Assistant Secretary of State for European and Eurasian Affairs Wess Mitchell to discuss important issues regarding cooperation with the International Monetary Fund (IMF).
The sides talked about the fight against Russian aggression, in particular on the international scene, as well as mutual trade, especially in the context of restrictions on imports of steel products to the U.S., according to the Ukrainian government portal.
"The issue of financial stability is an important priority, and cooperation with the IMF is of paramount importance here," Groysman said, adding that cooperation with international financial institutions is very important to Ukraine, in particular given the burden of debts incurred before 2014.
He recalled that Ukraine was holding talks with the IMF on two issues - the creation of an anti-corruption court, which is at the stage of adoption of the necessary legislation, and the introduction of a market-oriented formula for determining the price of gas for Ukrainian consumers. In the context of fuel prices, Groysman said that the Ukrainian side had its own solution option and that U.S. support on this issue would be very timely.
I understand how difficult it is to be in a situation in which Ukraine is now. Our priority is to make Ukraine stable and secure. My proposal is that you take all the necessary steps in your competence in order to show the IMF that your intentions are serious. An analysis of the situation, the reasoning of decisions and their implementation should work, Mitchell said.
According to Mitchell, support for Ukraine from the United States is very deep. It is provided not only at the level of the branches of government, but also the people of the United States. It is important for us to introduce programs of support and protection, especially defense programs, for Ukraine, he added.
This was the second meeting between Groysman and Mitchell over the past few months.
op