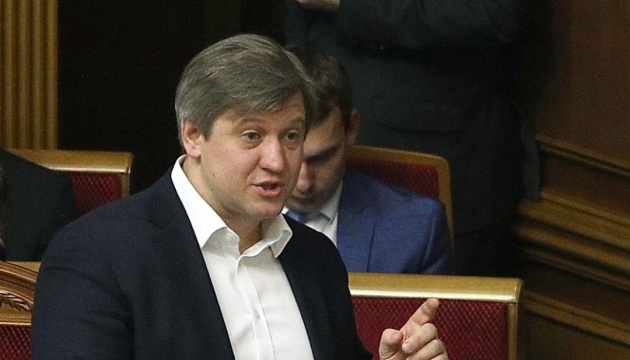 Danyliuk calls mandatory condition for allocation of EU financial aid to Ukraine
Ukrainian Finance Minister Oleksandr Danyliuk has said he hopes that the European Parliament will consider at a plenary meeting in June the issue of providing up to EUR 1 billion worth of macro-financial assistance to Ukraine.
The minister said this on Wednesday, April 25, following his visit to the EU's legislative body, Ukrinform's correspondent in Brussels reported.
"Now the key issue is time. I think, and everyone is working on it now, that we should have this issue discussed at a plenary meeting in June. This is rather an ambitious schedule, but this can be achieved. I think it's realistic," he said.
Danyliuk noted that the conditions for providing grants would be discussed after the approval of the program at the level of the European Parliament.
"Now we are working on the fulfillment of those conditions that did not allow us to receive the previous tranche," he said.
He recalled that four out of the 21 conditions put forward by the EU had not been fulfilled: "As for the two, we have found a solution. We are working on two of them," Danyliuk said.
In particular, the issue concerns the introduction of an automated system for checking electronic income declarations of officials and the opening of registers of final beneficiaries of companies.
"We are working on this without waiting for the approval of the program," the minister said.
In addition, he said, the mandatory conditions for the allocation of macro-financial assistance by the EU is the resumption by Kyiv of the program of cooperation with the IMF.
"All mechanisms of support as part of this package are oriented at the IMF program," Danyliuk said.
As Ukrinform reported, in early March, the European Commission approved and made a proposal to launch a new, fourth macro-financial assistance program for Ukraine amounting to EUR 1 billion for economic stabilization and structural reform.
All tranches of financial assistance may be paid after the Ukrainian side fulfills certain conditions, among them implementing economic reform and taking further steps to intensify the fight against corruption.
op