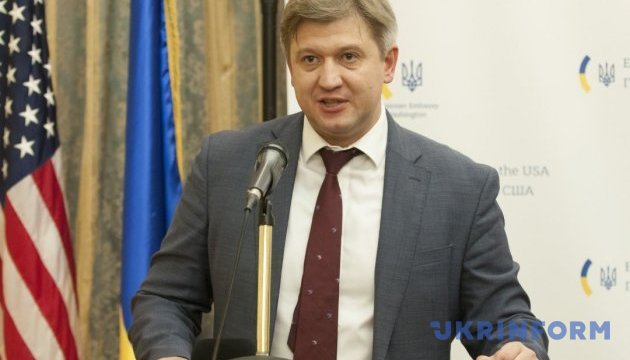 Ukraine's finance minister discusses with representatives of U.S. Administration cooperation with IMF
Ukrainian Finance Minister Oleksandr Danyliuk is on a working visit to the United States of America.
This is reported by the press service of the Ukrainian Finance Ministry.
On the first day of his working visit to Washington in the framework of the annual spring meetings of the International Monetary Fund (IMF) and the World Bank, April 16, Ukrainian Finance Minister Oleksandr Danyliuk met with Special Assistant to the U.S. President and Senior Director for Global Economics and Finance at National Security Council Mathew Haarsager. During the meeting, the parties discussed the main aspects and key achievements within the framework of Ukraine's cooperation with the IMF.
Matthew Haarsager noted the importance of implementing all reforms envisaged by the program of cooperation with the Fund. He also stressed that a transparent process of privatization of state enterprises would allow Ukraine attracting more investments from American business.
In turn, Oleksandr Danyliuk stressed that the fight against corruption was an important component of the reform process in Ukraine by creating an anti-corruption infrastructure, the final stage of which would be the Anti-Corruption Court.
On the same day, the Ukrainian finance minister met with Assistant Secretary of the USA for European and Eurasian Affairs Wess Mitchell.
Mitchell assured that the U.S. authorities would adhere to the policy of active support for Ukraine in reforms and, if necessary, toughen up laws in respect of sanctions.
Danyliuk thanked for support, stressing that Kyiv was determined to implement the reforms within the framework of the program with the IMF and successfully complete it in 2019.
During both meetings, the sides welcomed the process of implementing key reforms in Ukraine. The participants agreed that an increase in the level of the country's investment attractiveness became possible due to successful and comprehensive reform policy. At the same time, the improvement of the anti-corruption mechanism remains a key to success of the country and its attractiveness for investors in the future.
ish