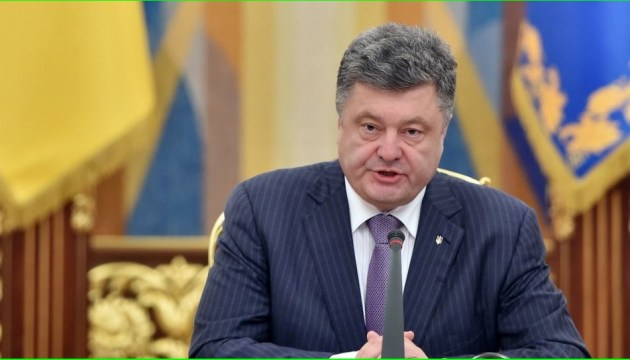 President Poroshenko explains why Russia won't do without Ukrainian gas transportation system
Russia will not do without the Ukrainian gas transportation system. In addition, Nord Stream 2 is a political, absolutely economically unjustified solution.
President of Ukraine Petro Poroshenko said this in an interview with Ukrainian TV channels on Friday, April 13, an Ukrinform correspondent reports.
"In any case, Russia will not do without the Ukrainian gas transportation system. Including, after 2019. In addition, the Nord Stream 2 is an entirely political project. It needs 15-20 billion dollars in investment, while our system is ready," Poroshenko said.
According to him, Ukraine is able to transport 150 billion cubic meters of gas.
"That is, the construction of Nord Stream 2 means throwing away 20 billion dollars. It is economically unjustified. And this is what I say to the leaders of the European Union: you just make the gas you will buy more expensive and your economy uncompetitive. You act, in this case, not only in the interests of Ukraine. You act in the interests of the EU's unity and competitiveness. And I want to assure you that the voice of Ukraine was very well heard," the President said.
The Head of State said that during the negotiations with German Chancellor Angela Merkel, the parties had agreed on a number of practical steps.
"The result of the talks is that Germany stated for the first time that the Nord Stream 2 was not only an economic, but also a political project. We have been proving that for months. And the second statement is that it cannot be implemented without taking into account the interests of Ukraine," the Head of State emphasized.
The President noted that during the negotiations with a great friend of Ukraine, Prime Minister of Denmark Lars Løkke Rasmussen, protection of Ukraine's interests had been also declared as an important condition. "Can you remember when the majority of European countries in their negotiations on the internal EU's energy security every time stressed the need to take into account Ukraine's interests?" he asked. According to the President, this is the result of signing the EU-Ukraine Association Agreement, the reforms implemented by Ukraine that are recognized by the EU and are actually the basis for expanding the areas of cooperation within the Eastern Partnership Plus format.
Answering the question what interests of Ukraine will be taken into account, the President noted: "There may be different options - starting from the guarantees that the volume of transit will not be reduced".
ol