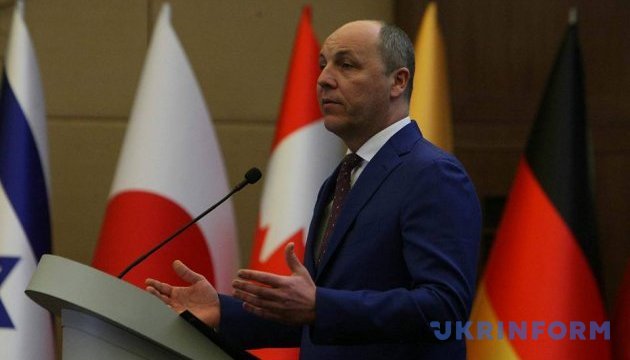 Parubiy calls EU permit to build Nord Stream 2 a blow to Ukraine
Verkhovna Rada Chairman Andriy Parubiy has said that the permit of some EU countries for the construction of the Nord Stream 2 gas pipeline will be a blow to their partners, in particular, Ukraine.
He stated this at the 11th Kyiv Security Forum, an Ukrinform correspondent reported.
"The whole idea of the European Union was that values are higher than economic interests, and today it is very important that Germany and all EU countries could recall these foundations and principles... and understand that the permission for the construction of Nord Stream 2 is a powerful blow to their allies, to such allies as Ukraine," Parubiy said.
At the same time, he noted that he respects the position of German Chancellor Angela Merkel, who believes that Nord Stream 2 is not only an economic but also a political project.
"We need to get the project frozen and prevent its implementation. I'm sure that we will be able to unite and stop the Nord Stream 2 project, as we did in 2014," Parubiy said.
As reported, Ukraine and Lithuania agreed to step up their work on ensuring European energy security and confirmed the need to prevent the implementation of the Nord Stream 2 project.
In late March 2018, Nord Stream 2, a company founded by Russia's Gazprom, received the permit for the construction and operation of the Nord Stream 2 pipeline system in the German exclusive economic zone in the Baltic Sea. The Finnish government also permitted the construction of the gas pipeline in its exclusive economic zone.
The construction of Nord Stream 2 is to start in 2018 and be completed by the end of 2019.
On April 5, 2018, the Ukrainian parliament passed a resolution on the appeal of the Verkhovna Rada of Ukraine to the international community on the unacceptability of the construction of the Nord Stream 2 gas pipeline and the monopoly of the Russian Federation in the world's gas markets.
op