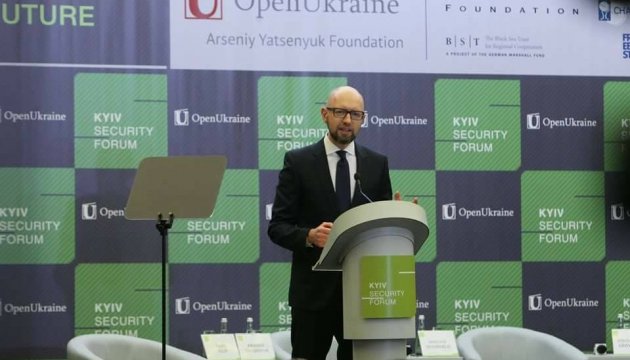 Yatsenyuk calls on Europe to oppose Nord Stream 2 project
Former Ukrainian Prime Minister and founder of the Open Ukraine Foundation Arseniy Yatsenyuk has urged Ukraine's western partners to unite in the issue of preventing the construction of the Nord Stream 2 gas pipeline.
He said this at the 11th Kyiv Security Forum organized by the Open Ukraine Foundation, an Ukrinform correspondent reported.
"Russian military aggression continues to receive support, strange as it may seem, even from some of our western partners. It is necessary to stop the construction of Nord Stream, which takes billions of dollars from Ukrainian citizens, Polish citizens, Slovak citizens, which violates trade relations between the European Union and the United States, which aims only at one thing - how to make Europe even more dependent on Russian gas and how to finance the Russian army," he said.
Yatsenyuk also said that the European Union was facing threats, including those related to disintegration.
"The European Union and its integrity and European democracy are under threat. There are so many global trends that lead to the disintegration of the Union. The European Union is an achievement of civilization," he said.
Given a number of global threats, including "open Russian aggression," Yatsenyuk stressed the need for unity "not in words, but in deeds." "Actions are sanctions. This is a political dialogue, a military force, unity, including in economic policy," Yatsenyuk said.
As reported, in late March 2018, Nord Stream 2, a company founded by Russia's Gazprom, received the permit for the construction and operation of the Nord Stream 2 pipeline system in the German exclusive economic zone in the Baltic Sea. The Finnish government also permitted the construction of the gas pipeline in its exclusive economic zone.
The construction of Nord Stream 2 is to start in 2018 and be completed by the end of 2019.
op