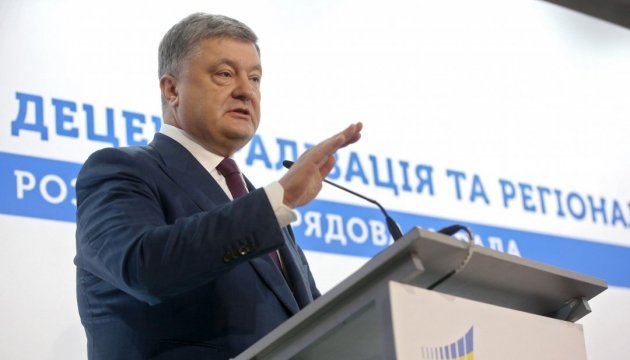 Poroshenko wants to convince IMF of need for exit capital tax
Ukrainian President Petro Poroshenko has said he hopes to convince the International Monetary Fund (IMF) of the need to introduce an exit capital tax in Ukraine.
He stated this at an extended government meeting on decentralization and regional development in Vinnytsia on Thursday, an Ukrinform correspondent reported.
"At my request, now in talks with the International Monetary Fund, we will discuss the rationale for the introduction of an exit capital tax. We will give financial justification, risks of loss of resources, compensation in budgetary planning," Poroshenko said.
He noted that the introduction of this tax greatly simplifies the accounting for entrepreneurs, since the tax is charged only on exit capital.
"I emphasize that we will be able to convince our partners that if this now works effectively in many countries, starting from Estonia and finishing with Georgia, it will also work in Ukraine, and this will significantly increase the investment attractiveness of our state and each region," Poroshenko said.
Earlier, the International Monetary Fund recommended that a bill replacing the income tax with the exit capital tax not be submitted to the Verkhovna Rada. Deputy Head of the Presidential Administration Dmytro Shymkiv said that the IMF had taken a pause to study the bill.
In early December 2017, President Petro Poroshenko announced that he intended to submit a bill on exit capital tax to the Verkhovna Rada, referring to the successful experience of many countries.
The exit capital tax assumes that businesses do not need to pay 20% of profit to the state, but can invest this money in the development of their companies.
For foreign investors, the innovation suggests that the tax rate will be fixed at 15%, whereas now the tax burden on companies can reach up to 25%.
op