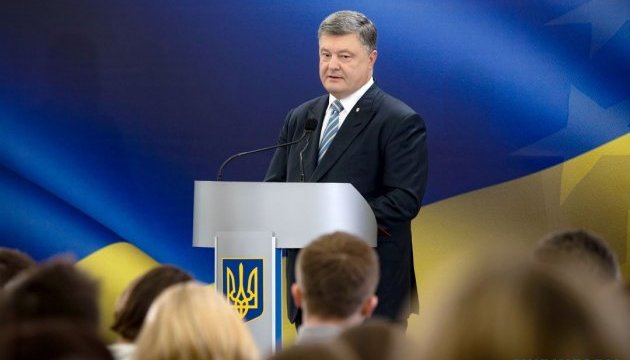 Poroshenko: Nord Stream 2 project needs to be revised
President of Ukraine Petro Poroshenko is convinced that the German-Russian Nord Stream 2 gas pipeline project needs to be revised.
The Head of the Ukrainian State said this in a commentary with the media outlets of the Funke group, published on Saturday.
"The gas pipeline project needs to be revised in economic, political and moral terms," Petro Poroshenko said.
As noted in the article, the Federal Government of Germany assumes that the gas pipeline is a business project and politics has nothing to do with it. Russia's Gazprom plays a key role for the Nord Stream 2 gas pipeline. At the same time, the German companies as BASF subsidiary Wintershall and Eon enterprises as well as other European companies participate in the development of the project.
In this context, the German media cited Poroshenko's warning that the Nord Stream 2 is "an instrument of political blackmail", not a "business project" for Russia. In particular, according to the Swedish Defense Research Agency data, Russia blocked the gas supplies to the countries of the Central and Eastern Europe and the Baltic states for political reasons a total of 40 times in 1991-2004.
The President of Ukraine reminded that Gazprom recently had made another attempt to provoke a new gas crisis in Europe, to shatter the energy security of the European Union, significantly reducing the volume of gas supplies to Ukraine. "Moscow has again revealed its true face in gas blackmail," Poroshenko noted.
In addition, the article highlights that Germany and the northern west of Europe are becoming more dependent on Russia amid the construction of the Nord Stream 2 gas pipeline. This contradicts the principles of the EU Energy Union. "It [Energy Union] aims to promote energy security, diversification of supply sources and competition," Poroshenko said.
At the same time, he stressed that Ukraine would lose about $2 billion if Russian gas was supplied through the Nord Stream 2. "In addition, Gazprom will be able to block the reverse gas supplies to Ukraine, limiting the volume of incoming gas supplies through the pipeline. These measures could weaken our country," the President added.
According to him, "it's also another argument for Moscow on why Russia is not trying to wage a more large-scale war against Ukraine."
As reported, giving an interview with the media outlets of the Funke group, the President of Ukraine criticized the supporters of the Nord Stream 2 gas pipeline project, calling them "the accomplices of Putin in his hybrid wars." The Nord Stream 2 company intends to start the construction of Nord Stream 2 pipeline in 2018 and complete it by the end of 2019. The length of the pipeline with a capacity of 55 billion cubic meters of gas per year should be 1,220 kilometers. The pipeline will run from Ust-Luga in Russia to Greifswald in Germany.
ol