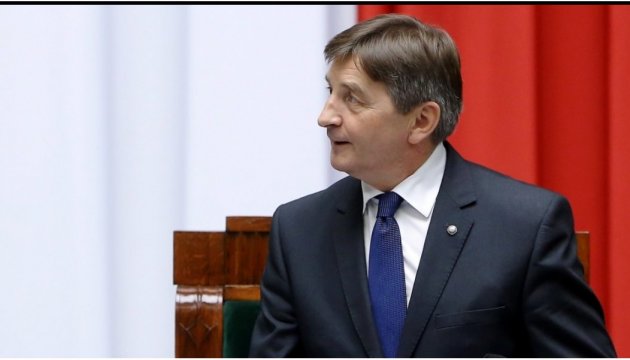 Nord Stream 2 can open way for Russia to major war in Ukraine - Kuchcinski
The completion of the construction of the Nord Stream 2 gas pipeline can open the way for Russia to full-scale aggression in Ukraine, and resistance to this project is what unites Poland and Ukraine.
Marshal of the Sejm of Poland Marek Kuchcinski said this at the Europe-Ukraine Forum in Rzeszow, Poland, on March 13, an Ukrinform correspondent reports.
"If this gas pipeline is put into operation, it will be a signal that Russia will be able to carry out aggression in Ukraine without any restrictions. So the gas pipeline, which now runs through Ukraine, will not be needed [for Russia for transit]. Therefore, this is another argument [for Ukraine and Poland] to stand together," Kuchcinski said.
He emphasized that the second important thing in the context of Polish-Ukrainian relations was infrastructure cooperation, the development of the network of connections, in particular border checkpoints.
"The ambitious plans on the construction of railways, or, rather, the renewal of the Malhowice-Kroscienko section through Khyriv, have shifted from place. Although this initiative is local, it is very important," he said.
According to him, Poland and Ukraine have no time to conduct lengthy historical debates and treat the wounds that are constantly being re-opened by "active Moscow actions."
"These problems need to be resolved, and then we can safely move forward together," Kuchcinski said.
He also said that Ukraine had made significant progress in reforming the country, which is particularly striking, as it has been done in conditions of external aggression.
op