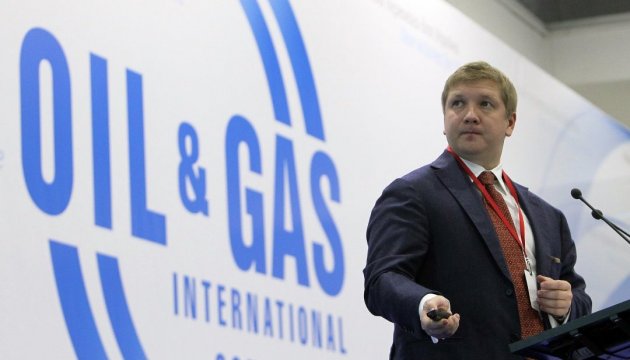 Kobolev proposes European Parliament assess Gazprom's actions
Ukraine has proposed that the European Parliament study and assess the circumstances of an artificial gas crisis, which Gazprom tried to create in early March.
Naftogaz of Ukraine CEO Andriy Kobolev said in an interview with Ukrinform that he had put forward such an initiative to European parliamentarians in Strasbourg.
"We talked about an artificial gas crisis that Gazprom tried to create in early March this year, about 12 days ago. We have proposed that the European Parliament make an assessment of what has happened. Whether a group or a commission is created for this purpose are already the nuances of the work of the European Parliament," Kobolev said.
According to him, the main problem of the gas crises of 2006 and 2009 was that Europe, which was hit by both crises, failed to assess what actually happened.
"And this is a very big problem of relations between us and Gazprom, Europe and Gazprom, because Russians behave and act against market rules, violate contracts, violate laws, violate court decisions, and nobody calls a spade a spade. Nobody from Europe tells them: 'Look, you have not fulfilled the terms of the contract,'" Kobolev said.
In his opinion, the study of past experience is also important for the decision on the implementation of the Nord Stream 2 project.
"It's important to start talking about it, because without it it's very difficult to give estimates to their actions in general. For example, it's very difficult to say if Europe needs Nord Stream 2. Is it a commercial project or a non-commercial project? If it's not a commercial project, then what are the risks? Therefore, knowledge of history and a proper assessment of historical events are very important from this point of view," Kobolev said.
As reported, Naftogaz won a historic lawsuit against Russia's Gazprom. The Arbitration Institute of the Stockholm Chamber of Commerce obliged Gazprom to pay Naftogaz $2.56 billion on the basis of two arbitration proceedings.
op