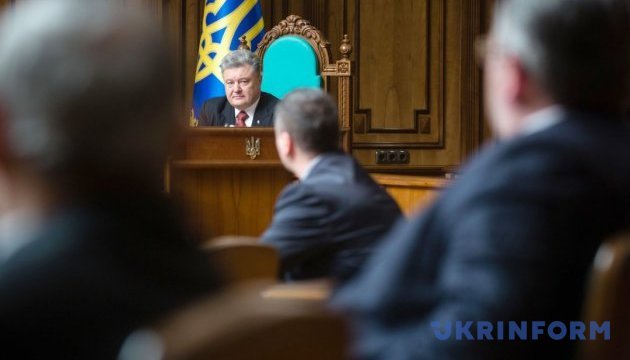 Poroshenko about gas crisis: Nothing endangers economy or social sphere
President Petro Poroshenko has stated that Ukraine will go through the current gas crisis period calmly and confidently.
He said this at a meeting of the National Council of Regions, when commenting on the statement made by Russia's Gazprom regarding the annulment of the contract with NJSC Naftogaz of Ukraine and termination of natural gas supplies to the Ukrainian gas transport system, the president's press service reported on Friday evening.
According to Poroshenko, under the NSDC decision, comprehensive decisions were made to reduce natural gas consumption allowing the state to go through the cold weather period.
"We will go through this crisis period calmly and confidently. Nothing endangers either economy or social sphere," Poroshenko stressed.
The President also noted the actions of NJSC Naftogaz of Ukraine on purchasing additional volumes of natural gas from European partners of Ukraine.
"Our Polish partners confirmed that and informed me that all the necessary volumes will be involved in this process," he said.
As Ukrinform earlier reported, Gazprom CEO Alexey Miller said that after the Stockholm arbitration court's decision not in its favor, Gazprom would initiate the termination of contracts for the supply and transit of natural gas with Naftogaz.
Naftogaz said that it had not yet received any documents from Gazprom about the cancellation of contracts for the sale and supply of gas.
In February, Naftogaz made a prepayment to Gazprom, waiting for the beginning of gas supplies from March 1. However, the Russian company returned the full amount and refused to supply gas.
iy