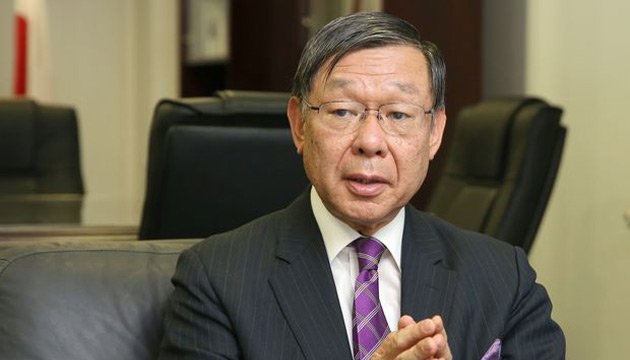 Japan provides $3.6 mln for restoration of Donbas
The Government of Japan will provide Ukraine with $3.6 million to meet humanitarian needs, support vulnerable segments of the population and restore the eastern regions.
Ambassador Extraordinary and Plenipotentiary of Japan to Ukraine Shigeki Sumi said this during a joint press conference with Vice Prime Minister of Ukraine – Minister of Regional Development, Construction, Housing and Utilities Hennadiy Zubko and UN Resident Coordinator in Ukraine Neal Walker, an Ukrinform correspondent reports.
"In 2018, the Government of Japan will allocate about 4 million dollars more," Sumi said.
The Government and the people of Japan thus continue to provide assistance to Ukraine through the UN system, he noted.
"Since the times of the Maidan protests, Japan has provided Ukraine with $1.86 billion. I would like to note that another $45 million has been also provided and implemented through the international organizations, including with the UN system, exclusively to help eastern Ukraine," Sumi said.
He noted that these funds will be allocated for radio equipment for the Interior Ministry, restoration of housing, conduct of training sessions for the displaced people and those who return from the east of the country, purchase of medical equipment.
"We are also aware about the shelling that damaged the water pipeline of Donbas, and we will provide the appropriate assistance. We plan to focus not only on humanitarian aid, but rather on reconstruction assistance," Sumi added.
The Ambassador of Japan also noted that he often visited eastern Ukraine.
UN Resident Coordinator in Ukraine Neal Walker added that assistance would be provided in the following areas: employment, environmental protection, capacity building and ensuring the safety of citizens. He added that the funds would be mainly transferred to eastern regions of Ukraine.
"The ambitious project, which is launched jointly with the Government of Ukraine, has very strong support of the Government of Japan, especially as regards the restoration in eastern Ukraine," Walker said.
He noted that the assistance would be provided to Ukraine within the framework of seven projects to be implemented by the UN agencies in Ukraine, in particular the International Organization for Migration (IOM), the United Nations Development Program (UNDP), the Office of the United Nations High Commissioner for Refugees (UNHCR), the United Nations Children's Fund (UNICEF), the United Nations Office for Project Services (UNOPS) and the World Health Organization (WHO).
According to Ukrainian Minister of Regional Development, Construction, Housing and Utilities Hennadiy Zubko, a major project for the reconstruction of the Bortnychi Aeration Station in Kyiv is being implemented at the moment with the help of Japan.
On February 21, the mission of the Japan International Cooperation Agency (JICA) will arrive in Ukraine to hold talks on projects for household waste handling in Kyiv, Dnipro and Kharkov.
Photo credit: Danylo Shamkin
ol