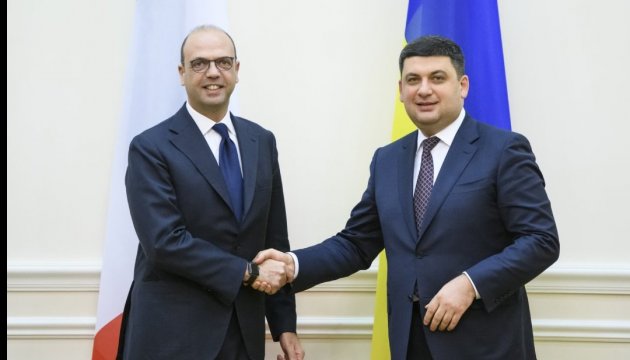 Ukraine ready to deepen ties with Italy in political, economic spheres - Groysman
Italy remains a good partner of Ukraine, and Kyiv is ready to deepen and comprehensively develop bilateral relations in the political and economic spheres, Ukrainian Prime Minister Volodymyr Groysman has said.
He stated this at a meeting with Italian Foreign Minister and OSCE Chairperson-in-Office Angelino Alfano on Tuesday, January 30, according to the press service of the Ukrainian government.
"Italy is our traditional partner. We have a lot in common, and there is an opportunity to build a good common future," Groysman said.
He thanked the Italian government for continued support of Ukraine in protecting its territorial integrity and countering Russian aggression. Groysman said that this issue was of particular importance in the context of Italy's chairmanship of the OSCE in 2018.
"The situation in Ukraine has always been in sight for my country. We note macroeconomic progress in Ukraine and see the challenges facing your state. So we are ready to help you in every possible way," Alfano said.
During the meeting, the sides discussed the results of reforms in Ukraine and the government's economic plans for 2018.
Groysman invited Italian companies to take part in the sale of assets and also proposed assessing the prospects of the joint implementation of projects in industry and energy. "The economy is growing and will grow, and we invite the Italian side to cooperation," he added.
Alfano, in turn, emphasized that exports from Italy to Ukraine had recently increased by 20% and Ukraine's exports to Italy had risen by 24%. "This is a good indicator. With this pace, our partnership will quickly become strategic. We are counting on cooperation in infrastructure, energy, and innovation," Alfano said.
op