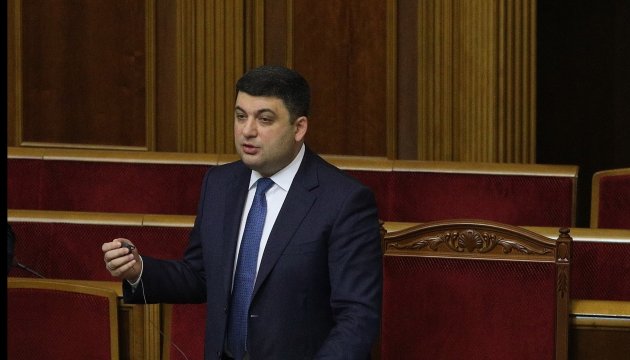 PM Groysman: Ukraine, Georgia ready to jointly master new markets
Ukraine and Georgia profess the principles of strategic partnership and are ready to deepen bilateral ties, develop common opportunities and jointly master new markets.
Prime Minister of Ukraine Volodymyr Groysman said this at the meeting with Chairman of the Georgian Parliament Irakli Kobakhidze, the Governmental portal reports.
"I want to thank Georgia for its continued support for Ukraine. This is an important priority for us. We have every reason to deepen contacts, especially in the economy," Groysman said.
He drew attention to the fact that the turnover of commodities between the states grows constantly and now amounts to tens of millions of dollars. In addition, the common international projects, especially the New Silk Road, aimed at developing the logistics capabilities of both countries have the great potential.
In turn, Kobakhidze noted that the common goal of the both states is the integration into NATO and the EU.
The meeting participants agreed that the protection of territorial integrity and political stability is also a key value for both states. That is why the coordination of efforts within the UN, the Council of Europe, the OSCE, the GUAM and at the inter-parliamentary level is an important element of friendship and cooperation.
Ukraine is the fifth largest Georgia's trading partners. The volume of Ukrainian exports to Georgia for nine months of past year amounted to USD 296.8 million. The main items of export are tobacco and industrial substitutes for tobacco, ferrous metals, meat and edible offal, alcoholic and non-alcoholic beverages, food products, sugar and sugar confectionery. The volume of Georgian imports to Ukraine for 9 months of past year amounted to USD 49 million. The main items of import are alcoholic and non-alcoholic beverages and fertilizers.
The important areas of cooperation are fuel and energy sector, including the development of the Euro-Asian Oil Transport Corridor (EAOTC) project, the agricultural sector, transport, especially the freight transport sector, healthcare, tourism, and the development of small and medium-sized businesses.
ol