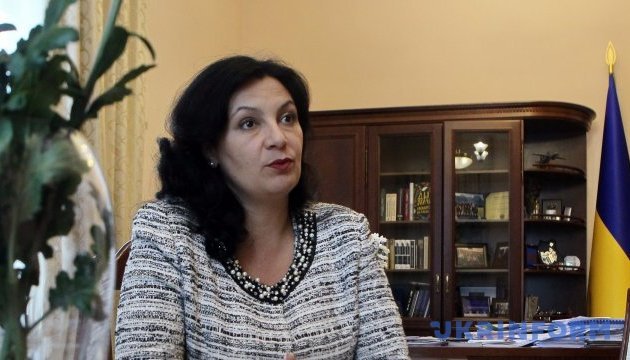 Ukraine ready for FTA talks with Albania - Klympush-Tsintsadze
Ukraine is ready to intensify its relations, deepen the political dialogue and discuss free trade with Albania, Ukrainian Deputy Prime Minister for European and Euro-Atlantic Integration Ivanna Klympush-Tsintsadze has said.
She stated this at a meeting with Albanian Minister of State for Diaspora Pandeli Majko, according to the government portal.
"The Ukrainian side is ready to analyze the possibilities for signing a free trade agreement as part of the bilateral intergovernmental commission on trade and economic cooperation. The draft law on such a commission was handed over by the Albanian side to Ukraine in November 2010 for further elaboration. The intergovernmental commission on trade and economic cooperation, the work on the establishment of which is ongoing, should be a good basis for beginning negotiations on the creation of a free trade area between Ukraine and Albania," Klympush-Tsintsadze said.
She also said that Ukraine was ready to resume the work of Ukraine's Honorary Consulate of Ukraine. She noted that bringing political relations to a new level was a common interest for both states, since economic cooperation has a significant potential for growth.
Majko, in turn, said that the intensification of bilateral cooperation was extremely important today, since mutual trade turnover is increasing, and more Ukrainians are opening Albania as a tourist destination. The minister also said that Albania was one of the Balkan countries that unquestionably support Ukraine in countering Russian aggression.
In addition, he recalled that the Albanian side remains interested in exchanging visits with Ukraine at high and highest levels. In particular, Albania's foreign minister is expected to visit Ukraine on February 22-23.
According to the State Statistics Service of Ukraine, in January-October 2017, trade between Ukraine and Albania amounted to about $21.8 million. In particular, exports reached $16.5 million, and imports amounted to $5.3 million. The surplus for Ukraine is about $11.1 million. Export supplies from Ukraine to Albania mainly consist of ferrous metals, fertilizers, fats and oils, sugar, and confectionery.
About 3,500 Albanians live in Ukraine.
op