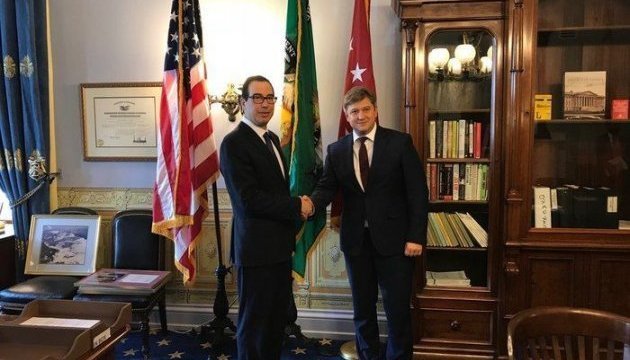 Ukrainian, U.S. finance ministers discuss sanctions, interaction with IMF
Ukrainian Finance Minister Oleksandr Danyliuk and U.S. Treasury Secretary Steven Mnuchin have discussed economic reform in Ukraine, the U.S. sanctions policy and interaction with the IMF, the Ukrainian Finance Ministry's press service has reported.
"As part of the meeting the sides discussed the course of economic reform in Ukraine, the issue of support of our country by the United States, the U.S. sanctions policy in support of the territorial integrity and sovereignty of Ukraine, the status of interaction with the IMF, as well as progress in combating corruption and initiatives to improve the business climate in Ukraine for the past three years," reads the statement.
Danyliuk thanked the United States for strengthening economic sanctions, which are an effective tool for deterring Russia's aggression. Ukraine continues to implement reforms that give positive results and through this Ukraine has already managed to return to economic growth.
"We still have a lot to do to make our economy stronger and more resistant to crises. U.S. support is important in this way," Danyliuk said.
op