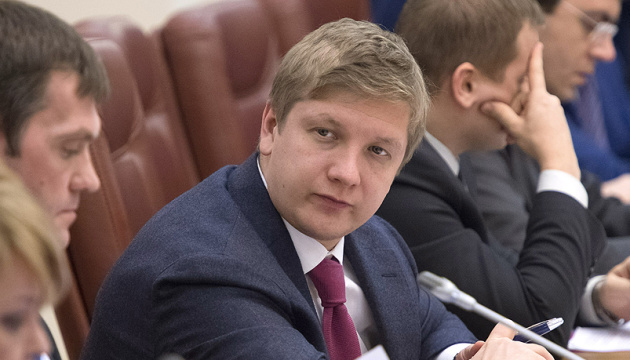 Naftogaz CEO Kobolyev: Stockholm Arbitration abolishes 'take or pay' position
The Stockholm Arbitration has issued a decision canceling the "take or pay" position in the contract with Russia's Gazprom.
CEO of NJSC Naftogaz of Ukraine Andriy Kobolyev stated this at a meeting with President Petro Poroshenko, the president's press service reported on Friday evening.
"According to this decision, the position 'take or pay' for the sum exceeding 45 billion dollars was abolished, which proceeded from the so-called contract of Mrs. Yuliya Tymoshenko," Kobolyev said.
According to him, the price for gas, bought by Naftogaz in 2014-2015, was also reduced by approximately 30%. The saving totals about 1.8 billion dollars.
He also said that under that contract, the price was set at 485 dollars per 1 thousand cubic meters of gas. Now, the price will total about 350 dollars.
"Thus, the saving will be very significant for both Naftogaz and the entire Ukrainian state," Andriy Kobolyev noted.
He said that the price will be reduced in the future and will be equated to the European price.
The parties also discussed the prospects of the tribunal's decision regarding transit, after which it would be possible to discuss the final sum of our debt.
On December 22, NJSC Naftogaz of Ukraine announced about its victory in the Stockholm Arbitration in the case concerning the gas supply contract.
iy