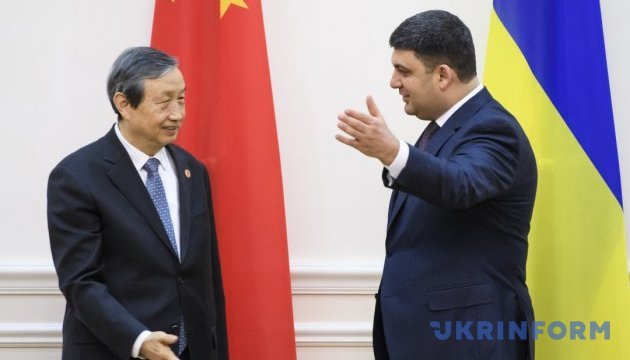 Ukraine counts on participation of Chinese investors in privatization of assets - Groysman
Kyiv counts on the active participation of Chinese investors in the large-scale privatization of Ukrainian assets, Ukrainian Prime Minister Volodymyr Groysman has said.
He stated this at a meeting with Vice Premier of the State Council of China Ma Kai, according to the government portal.
"We will open up new opportunities for investment, including through the adoption of new legislation on privatization, concession. It can become an instrument of attracting capital to Ukraine. We also have significant human resources potential and technological development opportunities, so we can talk about uniting efforts to strengthen common positions on the world market. Ukraine is and will be a reliable partner for cross-border projects, first and foremost, those concerning logistics. We are open to cooperation and development of initiatives that would be included in the overall strategy for the development of such projects," Groysman said.
Ma Kai, in turn, praised Ukraine's desire to be actively involved in the implementation of international projects, as well as to create the most favorable business climate for the development of entrepreneurship.
"For our part, we are ready to stimulate investment and thus contribute to the restoration of Ukraine's economy. Therefore, we propose to intensify our cooperation on the international project 'One Belt, One Road' and in this context we consider Ukraine as one of the logistics and industrial centers on the road to the European Union, and we also hope to resume work on our joint infrastructure projects. The spectrum of our interaction is not limited to the agricultural sphere or the construction of infrastructure facilities. We are also interested in technological cooperation, the creation of industrial parks, and cooperation in the field of aircraft engineering, space exploration and energy," he said.
The parties noted that China consistently supports Ukraine and is one of its three largest trading partners. In the first nine of 2017, trade between the two countries grew by 14.5%, to $5.6 billion.