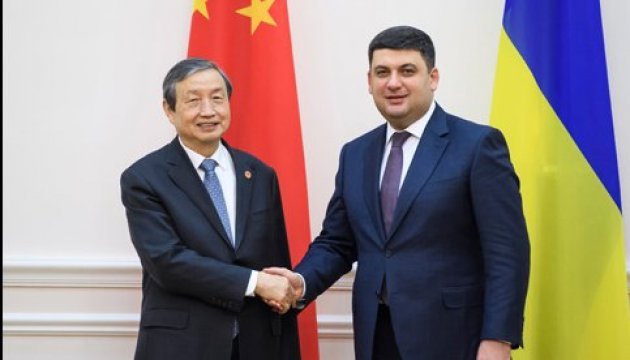 Ukraine, China to implement a number of projects for $7 bln – PM Groysman
Ukraine and China mark the 25th anniversary of the establishment of diplomatic relations and move to a new, strategic level of interaction, which foresees the implementation of joint projects worth about $7 billion.
Respective agreements were reached at a meeting between Ukrainian Prime Minister Volodymyr Groysman and Vice Premier of the State Council of China Ma Kai, according to the government portal.
"China has been and remains our strategic partner and our strategic priority. And today we see new opportunities for deepening cooperation and re-launching the implementation of joint projects and initiatives," Groysman said.
Ma Kai, in turn, said that China pays significant attention to cooperation with Ukraine, both in the political sphere and in the area of trade and economic cooperation. "We believe that we have a common position in this regard. That is why we are ready to stimulate and deepen our cooperation," he added.
He noted that the potential of cooperation between the two states is really great. "We are ready to work out different proposals and promote their implementation. There are many plans and even more opportunities, so we must have a responsible attitude to the tasks that we outlined," he said.