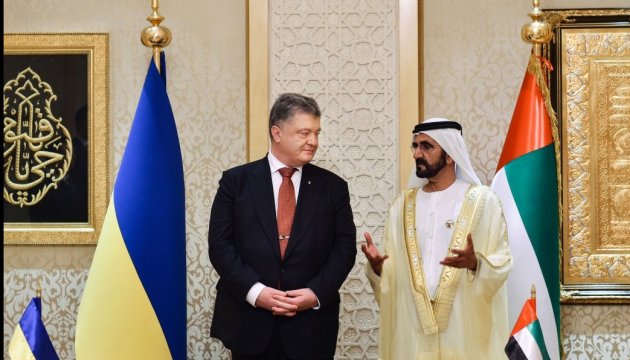 Ukraine and UAE intensify energy, aircraft, defence cooperation
President of Ukraine Petro Poroshenko has met with Vice President, Prime Minister, Minister for Defence of the United Arab Emirates, ruler of the Emirate of Dubai Sheikh Mohammed Bin Rashid Al Maktoum.
This is reported by the press service of the Head of State.
"Petro Poroshenko and Mohammed Bin Rashid Al Maktoum noted a significant potential for intensifying practical interaction in a number of strategic areas of cooperation such as energy, aircraft engineering, space research and military and technical cooperation," the statement reads.
During the meeting, the issue of preparation for the next meeting of the intergovernmental Ukrainian-Emirate commission on trade and economic cooperation planned to be held in Kyiv was discussed.
The parties welcomed the reached agreement on the mutual abolition of visa requirements for citizens of Ukraine and the United Arab Emirates. The President of Ukraine noted the expediency of further improvement of air communication between the two countries, taking into account the expansion of various bilateral contacts.
ol